What Summer? On Saturday after a late start due to competitors watching the England World Cup match (Magic!) the sailors took to the water in strong winds and fair weather. In the two races of the day, the rescue crews where kept very busy with numerous capsizes including four from the Hodgkin's brothers and a couple from Master GP14 sailors Mike Fairlamb (Deanscales) and Eric Smith (Dalston). They even managed to rescue some Damsels in Distress. In a weekend dominated by the GP14 fleet, honours were even between Phil Smith (Harrington)/Toggle Cowan (Crosby) and John Telford (Kirkland)/ Andy Smith (Harrington). Closely followed by Dave and Lynne Lawson (Kendal). The small Flying Fifteen fleet was won by Mike Moore (Preston) from Mike Parry (Carlisle). The ever-increasing Mirror fleet with a good mix of single handers and crewed boats. Tim and Rob Smith (Harrington) took the honours closely followed by the single hander John Sharp.
The day proved to be a good day for the club with the emergence of the GP and Mirror fleets and also the number of new members taking advantage of the club Toppers and GP14.
On Sunday the first race again had large Mirror and GP fleets with John Halliday in his Sport 16 following around. With a flying start from Robin Dawson (Carlisle)/Mark Somerville (Dalston), they were first to the windward mark, only to be overhauled and finish third behind John Telford and Phil Smith. The Mirrors again won by Tim and Rob Smith.The fresh breeze gave new members Julian and Louise another chance to practice their capsizing technique. Meanwhile Bridget was getting her knickers in a twist (rather than wet!) about beating sons Richard and Philip – much to Philip's disgust! Anyway, the excitement was so much she spent the rest of Sunday afternoon painting the ladies' loos with Joan Cowan
In the afternoon it was the Jubilee Sailing Trust Pennant and the OOD sent the fleet around the lake. A good mix of boats set off with very little wind in the bay. Everyone except Neil and Judith Currie were becalmed in no wind at Peel Wyke. With many boats retiring at this point, those that carried on found a wonderful breeze further up the lake. As expected the Curries were first home, followed by Mike and Jenni Moore then Dave and Lynn Lawson. Eventually after and 2 1/2 hour's single-handed Epic voyage Mike Chappell (Wigton) finished to cheers from the Clubhouse.
Overall results
JUBILEE SAILING TRUST PENNANT

PN    Boat  Helm          Class        1 Pts
 1     501  N CURRIE      RS400        1   1
 2    3473  M MOORE       FF           2   2
 3   13176  D LAWSON      GP           3   3
 4   13327  MiFAIRLAMB    GP           4   4
 5   69960  M CHAPPEL     MIR          5   5
 6   13013  N LEWIS       GP           6   6
 7   13161  S SPENCE      GP           7   7
 8     172  J HALLIDAY    SPORT 16     8   8

                     Points for RTD =  9
                     Points for DSQ =  9
                     Points for DNS =  9

 1 races to count
Moving in Royal Circles
What a weekend! Royal visitors, street parties, a fair share of rain and a great deal of fun.
As for going around in circles, the first race of the Paul Carruthers Memorial Trophy had those sailors that knew the rules pirouetting around one of the marks of the course. However, although this caught out almost half of the fleet, the final position was not influenced. Some excellent sailing in heavy winds resulted in Andy Smith and Robin Dawson (last year's winner of the Trophy) taking two firsts on handicap and the series.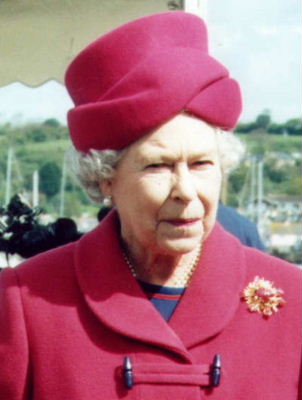 Yes, we were honoured with a visit from Her Majesty, together with many of her ancestors, at a disco on Sunday evening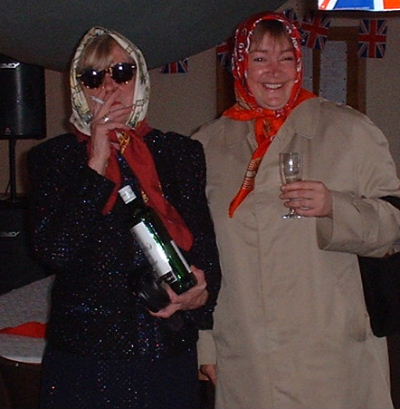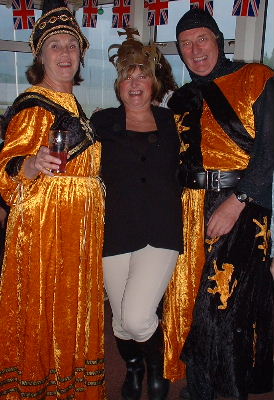 More snaps of the royal guests can be seen by clicking here, and here, and here, and here.
The street party was held in excellent conditions. The spam sandwiches, blancmange, jelly and custard, etc., were enjoyed by all. It was topped off with a adults v children game of rounders! Lilo Lil was awarded woman of the match after fearlessly jumping into the beck to retrieve a ball. The evening was topped off with a magnificent concert by stars such as Paul McCartney, Elton John, Queen, ……………. Ok, so we watched the televised version, but we felt part of it!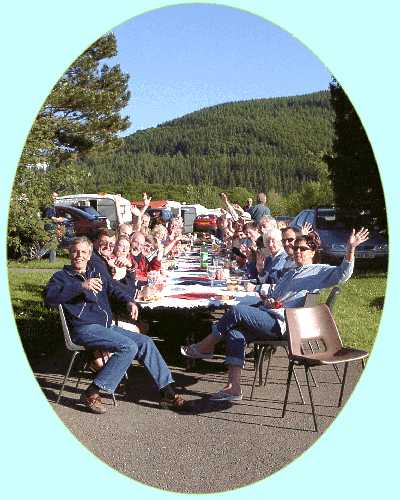 Want more? You know where to click!
As for the sailing, there were numerous aching bodies after the high winds but there was some excellent competition. The high winds even resulted in one race being abandoned.