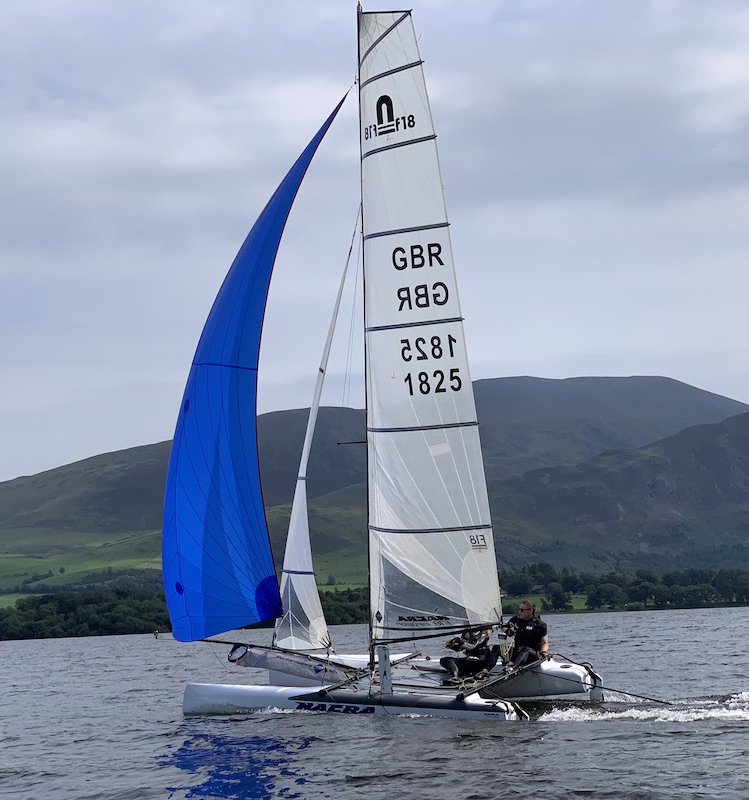 Sunday's forecast was for a repeat of Saturday's weather, but on arrival sailors were greeted with a SE force 4, believed to be a katabatic wind. The big question was, would it last?! As soon as the sequence was underway, there was signs that the forecast NE direction was coming through.
The course was set with a beat from 2 to 7 (well B, which was a temporary replacement for 7). The handicap fleet started ok, and Paul/Jude in their Nacra managed to keep in the wind, while others had mixed fortunes, with memories of round the lake racing where wind seemingly comes from multiple directions at the same time, because the NE wind kept trying to fill in. Paul's pace was so good that they were sent on a second lap, not that it did their final position on handicap any good, as they finished 3rd behind Banter/Izzy in a RS400, and Steve/Ruth in a Merlin.
In the GPs, Andy/Phil won, with John/Jack 2nd, while Mik in a Mirror won the slow handicap from Matty in a Tera. Despite a couple of capsizes at the windward mark, Cameron battled on to finish 3rd.
Between races AJ/Sue opted to go ashore to drain their GP. Did someone forget to put the bungs in?
The start line was moved for the next race, to try and maintain a steadier wind, which was still coming from the SE. A simple windward leeward course worked, though apparently there was still challenging shifts to contend with. Steve/Ruth took 1st in the Handicap fleet with Scumper 2nd. The leader results for the GPs and slow handicap fleets were the same as the first race.