A cold ENE breeze blew throughout Saturday afternoon, accompanied by occasional lulls, and numerous swings in direction.
Shifts just before the start led to a starboard biased line (or was it just poorly set?!) and a premature starter who duly returned. Scumper in his RS100 led both races, while Joan/Jack in a GP showed the way for a while.
The bulk of the fleet of 18 boats were reasonably well bunched, and places were prone to change frequently.
Nigel caused havoc just before the start of the second race when he came into a group of starboard boats whilst on port. Bumps were heard, and turns were soon completed…
Autumn Saturday series Latest results
Sunday started with a reasonable SE breeze much to the surprise of many. However the onset of rain in Keswick seemed to kill the wind as the rain moved closer to the northern racing bay. Fortunately it was just a temporary lull, and the wind came back stronger than before.
Val/Ken were on a roll and pulling away from the fleet. Neil Garrison was on such a good lift he missed the gate but eventually looked behind, saw what was happening, and returned to go through it.
Several helms opted out of the second race, probably so they could warm up. Those that remained had some close racing. Neil Garrison was on better form, and spent most of the race fighting AJ/Sue for lead boat, while Val's first beat had them down the pan, she nibbled away to take the lead by the end of the second main beat, but racing remained close down to the leeward mark where AJ was on her tail (and she wasn't certain how NeilG would get in the way. Anyway she kept her nerve and held the lead up the final short beat to the finish.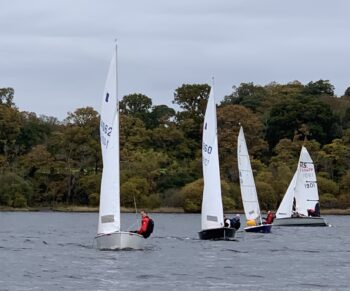 Autumn Sunday series latest results