Blustery and shifty westerly winds were managed well by the two fleets totalling 30 boats racing on Saturday.
With three races sailed back to back there was bound to be a few aching bodies overnight, especially as there had been a few capsizes, particularly after gybe marks.
There was just one general recall with Ian Preston leading the Flying 15 fleet to the course side of the line! A later involuntary gybe by Ian just in front of father in law Graham created a target rear quarter which Graham just could not avoid hitting. Oops!
Three varied courses tested sailors on all points of sailing, and it proved to be the visitors that mastered the challenging conditions as they won all races with three straight wins. Steve Goacher/Tim Harper from Royal Windermere lead the Flying 15s with Scumper/Robbie D 2nd, and Matt Mee/Chris Robinson from Burghfield lead the GPs with Dave Lawson/Zefer 2nd
Sunday was overcast with light drizzle as the sailors rigged their boats, but the sun soon broke through. The Flying 15s may have been slow to launch, but theey were too eager to start, resulting in two general recalls and the introduction of the black flag!
The wind was lighter than Saturday but just as shifty, which mixed up positions more than usual. Even Steve Goacher was caught out on the final beat, losing his lead to Mike Preston/Karl Sloane from Blackpool.
By the final race the wind has swung to the forecast northerly direction, and started to freshen with some gusts being beneficial to those able to take advantage.
In the final race, Steve took most of the first lap to break away from Mike, finishing in that order overall with Neil Currie/Rory Yardley 3rd.
Val and Ken Bell had their moment of glory when they took the lead in the final GP race, though a wind shift, and a gybe later it was but a memory! Dave/Zefer broke Matt/Chris' winning streak by pipping them on the line. Overall the honours went to Matt/Chris, with Dave/Zefer 2nd, and Val/Ken 3rd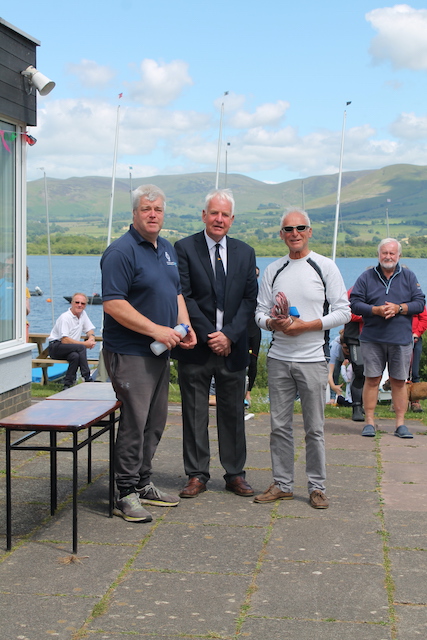 Overall results: