This weekend we had over boats in three fleets racing on the lake. A brisk, cold north easterly greeted the fleets on Saturday, but the breeze eased before the start, and although boats kept moving, the wind came and went in fits and starts, with gains to be had from the gusts and accompanying shifts.
The 505 class northern area championship, has Jim Blyth from Largo on the same points but just ahead of John Webster from Carsington as the sailors rest with a curry and lager night!
The fast handicap fleet with 19 boats had Richard Smith from Glossop as overnight leader, and the slow handicap fleet, comprising a combination of mirror variations, was being led by Edward Grey from Royal Windermere.
As for tittle tattle, Roy and Kayla had a day of firsts (possibly best to get them out of the way in one go!). Having moved up to the RS400 fleet, not only were they sailing the boat for the first time, but it was their first open in it, and their first (but not only) capsize. Kayla had to do some helming for the first time as Roy tried to catch up with her when she and the boat sailed away after the capsize. Quite a day, but it didn't stop them going out for more in the second race.
Despite a southerly wind, Sunday was just as cold. The winds had the sailors hanging out up the beats, but off wind planing conditions were sometimes marginal. This was certainly a frustration in the final race which took two fleets on a 35 minute beat to the southern end of the lake, but the wind seemed to lose its punch for the return trip so, again, the off wind legs were not as spectacular as many had hoped for.
All in all, the weekend had some excellent close racing, and all sailors will no doubt sleep well after so much exercise.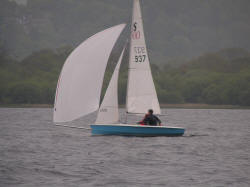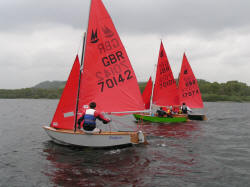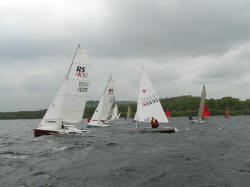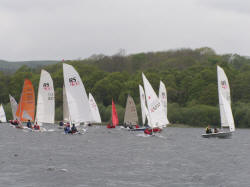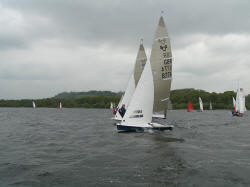 505 Northern Area Championship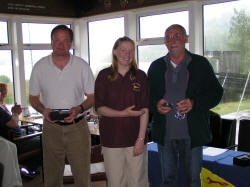 | Class | SailNo | Helm | Crew | Club | R1 | R2 | Race 3 | R4 | Total | Nett |
| --- | --- | --- | --- | --- | --- | --- | --- | --- | --- | --- |
| 505 | 8774 | John Webster | Adrian Coates | Carsington SC | 1.0 | (2.0) | 2.0 | 1.0 | 6.0 | 4.0 |
| 505 | 8552 | Jim Blyth | Danny Read | Largo Bay SC | 2.0 | 1.0 | 3.0 | (4.0) | 10.0 | 6.0 |
| 505 | 8526 | Tim Bird | Damon Smith | Burton SC | (3.0) | 3.0 | 1.0 | 3.0 | 10.0 | 7.0 |
| 505 | 8429 | Michael Ennis | Fenton Parsons | RNI YC | (6.0) | 6.0 | 4.0 | 2.0 | 18.0 | 12.0 |
| 505 | 8497 | Bill Oliver | Dennis Cartwright | Burton SC | 4.0 | 4.0 | (5.0) | 5.0 | 18.0 | 13.0 |
| 505 | 8700 | Alan Henderson | Alan Sinclair | Prestwick | 5.0 | 5.0 | (6.0) | 6.0 | 22.0 | 16.0 |
Fast Handicap Open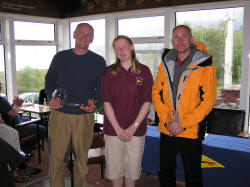 | Class | SailNo | Helm | Crew | Club | PY | Race 1 | Race 2 | Race 3 | Race 4 | Nett |
| --- | --- | --- | --- | --- | --- | --- | --- | --- | --- | --- |
| 59er | 108 | Mark Fearnley | Chris Spicer | Morecambe & Heysham YC | 905 | (13.0) | 1.0 | 1.0 | 1.0 | 3.0 |
| Javelin | 5 | Richard Smith | Curtis Etchells | Glossop | 926 | (3.0) | 2.0 | 2.0 | 3.0 | 7.0 |
| RS400 | 1072 | Robin Dawson | Mike Cowan | Bassenthwaite SC | 952 | (6.0) | 4.0 | 3.0 | 4.0 | 11.0 |
| Phantom | 1214 | Colin Barrie | | Redesmere SC | 1045 | 1.0 | (21.0 DNF) | 4.0 | 7.0 | 12.0 |
| Phantom | 1173 | Andy Downie | | Glossop | 1045 | (7.0) | 3.0 | 5.0 | 5.0 | 13.0 |
| RS400 | 1298 | Steve Hunt | Rebecca Dawson | Bassenthwaite SC | 952 | 8.0 | 5.0 | (17.0) | 2.0 | 15.0 |
| Laser | 165533 | Martin Metcalfe | | Killington SA | 1078 | 5.0 | 8.0 | 7.0 | (9.0) | 20.0 |
| Phantom | 1229 | Eddie Brooks | | Elton SC | 1045 | 2.0 | 9.0 | 10.0 | (21.0 DNF) | 21.0 |
| RS400 | 937 | William Carruthers | Lesley Braddock | Bassenthwaite SC | 952 | (11.0) | 10.0 | 6.0 | 6.0 | 22.0 |
| RS400 | 669 | Graham Tullett | Gavin Tullett | Royal Windermere YC | 952 | (9.0) | 7.0 | 8.0 | 8.0 | 23.0 |
| Laser | 169001 | Philip Worth | | Delph SC | 1078 | 4.0 | (11.0) | 9.0 | 11.0 | 24.0 |
| RS300 | 338 | Rory Yardley | | Bassenthwaite SC | 1000 | 10.0 | (14.0) | 14.0 | 10.0 | 34.0 |
| Laser Radial | 130579 | Sam Hall | | Bassenthwaite SC | 1101 | 15.0 | 12.0 | 11.0 | (21.0 DNF) | 38.0 |
| RS400 | 1049 | Mark Somerville | Andy Thomas | Bassenthwaite SC | 952 | 12.0 | 6.0 | (DNC) | DNC | 39.0 |
| Laser | 160516 | Tim Chittenden | | Bassenthwaite SC | 1078 | (DNC) | 13.0 | 13.0 | 13.0 | 39.0 |
| Contender | 515 | Kathryn Smith | | Glossop | 994 | 14.0 | 16.0 | 16.0 | (21.0 DNF) | 46.0 |
| RS400 | 1029 | Roy Blackburn | Michaela Sheard | Bassenthwaite SC | 952 | (21.0 DNF) | 15.0 | 12.0 | 21.0 DNF | 48.0 |
| RS400 | 647 | John Whalley | David Thompson | Royal Windermere YC | 952 | (DNC) | DNC | 15.0 | 12.0 | 48.0 |
| B14 | 748 | Andrew Elliott | Tim Elliott | Rotherham | 880 | 16.0 | (21.0 DNF) | 19.0 | 21.0 DNF | 56.0 |
| B14 | 640 | Phiip Hodgkins | Richard Hodgkins | Bassenthwaite SC | 880 | (DNC) | 17.0 | 18.0 | 21.0 DNF | 56.0 |
Slow Handicap Open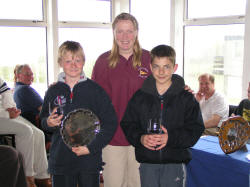 | Class | SailNo | Helm | Crew | Club | PY | R1 | R2 | Race 3 | R4 | Nett |
| --- | --- | --- | --- | --- | --- | --- | --- | --- | --- | --- |
| Mirror (two man) | 70101 | Edward Grey | Nick Elsdon | Royal Windermere YC | 1386 | (1.0) | 1.0 | 1.0 | 1.0 | 3.0 |
| Mirror (Single Handed) | 70142 | Tim Smith | | Bassenthwaite | 1366 | (3.0) | 3.0 | 2.0 | 2.0 | 7.0 |
| Mirror (two man) | 17074 | David Grey | Bethany Grey | Royal Windermere YC | 1386 | 2.0 | 2.0 | (3.0) | 3.0 | 7.0 |
| Mirror (Single Handed) | 58625 | Robbie Cwik | | Hollingworth Lake | 1366 | 4.0 | (5.0) | 5.0 | 4.0 | 13.0 |
| Mirror (Single Handed) | 69960 | Mik Chappell | | Bassenthwaite SC | 1366 | (8.0 DNF) | 4.0 | 4.0 | 5.0 | 13.0 |
| Martin | 114 | Tony Flinn | Rosemary Flinn | Bassenthwaite SC | 1164 | 5.0 | 6.0 | (DNC) | DNC | 19.0 |
| Mirror (Single Handed, no spinnaker) | 44379 | Eric Smith | | Bassenthwaite SC | 1372 | 6.0 | (8.0 DNF) | DNC | DNC | 22.0 |