Well very nearly, especially when you're talking about the coveted Grotty Potty. As part of the Flying 15 Viking Trophy team racing event, one special prize (the Grotty Potty) is awarded by the previous year's 'winner'. It tends to be awarded for committing some ultimate foolhardy action during the course of the weekend. Last year's winner, Ian Preston, seemed to be spoilt for choice this year – would it go to William Carruthers for advertising the wrong date for the event on the website? Or perhaps Steve Goacher for sailing to the wrong mark? How about John Hardisty for going off on holiday? Or Miles for making a pig's ear of coming in to the trot at the end of racing? Or indeed, should he keep it himself and use it as an extra large bailer for that little leak in his boat? Well, it was to be Ian's choice, but as he couldn't make up his mind between John and Miles, he asked the audience and, by an overwhelming majority, the Potty was awarded to Miles.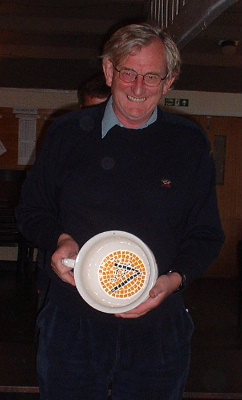 Anyway, back to the real point of the weekend, in the midst of a miserable forecast, a select few turned out to compete for the trophy. Steve Goacher took no chances this year, and brought along a Windermere team. Was he toying with us all, letting the genny flap on the beat?, taking some of the fleet the wrong side up the first beat? Or is he human like the rest of us and just gets it wrong occasionally? Never mind, he proved what he is capable of to come back and win every race after helping his other team members work their way towards the front of the fleet.
There was some challenging racing with courses set by what seemed (at times) like sadistic ODs! Despite the bitterly cold weather, a great weekend's racing was enjoyed by all.
Any need to say who won? Windermere's Any Suggestions? Read on for the final results.

 Team Name  Boat Helm       R1  R2  R3  R4 Pts
    Any     3550 D Brockba   2   2   4   7
Suggestions?3728 N Tullett   4   4   2   2  31   1
            3721 S Goacher   1   1   1   1
____________________________________________________

            3473 M Moore     5   3   6   5
 WIMP & DC  3268 W Carruth   7   8   8   3  73   2
            3521 P Burnell   6   6   7   9
____________________________________________________

            3385 M Middlet   8   5   9   8
  Commodes  1117 K Jamison  10  10  10  10  76   3
            3593 M Ninnim    3   9   5   6
            3231 J Christi   9   7   3   4

The following pictures were taken by David Lawson