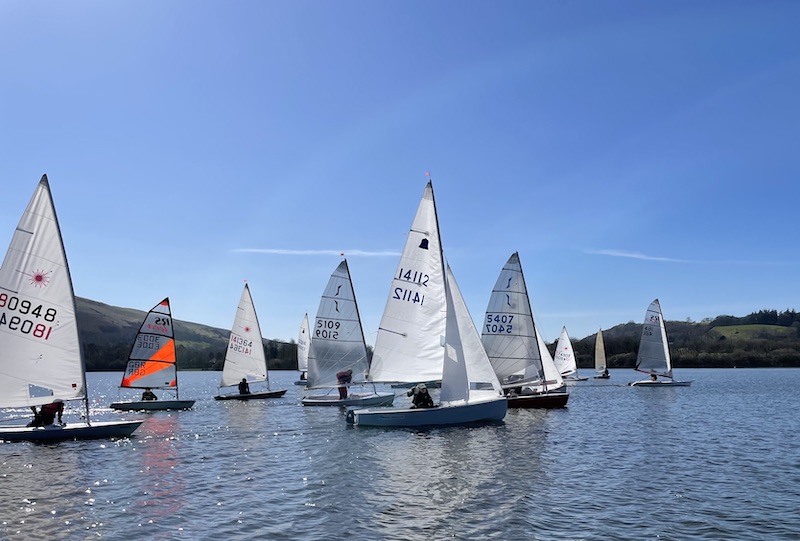 Easter Saturday, sunshine, and the first day of club racing provided a perfect combination to get more than 20 boats racing.
The morning started with 21 boats out for a junior cadet training session in some light winds.
The wind remained light for the afternoon racing, and it was variable in strength, and shifty to boot, so racing was confined to the NW corner of the lake to try and stay in the wind.
The first start was busy and had two boats OCS. The shifty winds proved to be challenging, and towards the end of the second race, the wind faded to mirror like conditions bringing back memories of years gone by. Although the easing wind benefitted the juniors as they were first to be finished when the course was shortened, Scumper had a large enough lead in his RS100 to take his second win of the day, and win the series overall.
The main thing is that we're back on the water. Good times!
Overall results for Starter's Prize
Sunday was somewhat different – overcast, colder, plenty of wind which was forecast to increase, and a smaller selection of more hardy sailors!
With conditions liable to be less inviting, two races were sailed back to back, with the third race to be sailed after a lunch break for those that were up for it. Racing was close, and somewhat dependent on mistakes/capsizes, of which there were several, in the gusty and shifting conditions. In the GPs, Dave/Lynn and John/Jack each had a win, as did Scumper and Robbie D in the Handicap fleet.
When the lunch break started, sailors opted to pack up their boats rather than snack in the warmth of their cars before having to venture back out again.
Latest results Blencathra Trophy etc
Monday's forecast was less favourable but the Bassenthwaite micro-climate offered clear blue skies, with a bitterly cold wind, but sailable conditions. However, with only one GP and and RS400 prepared to sail, racing was cancelled for the day.