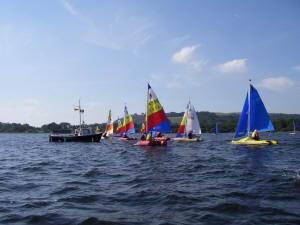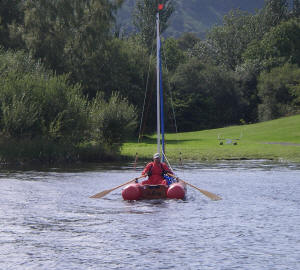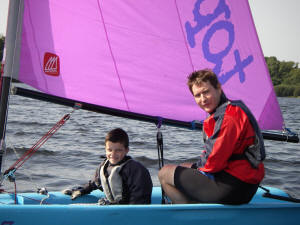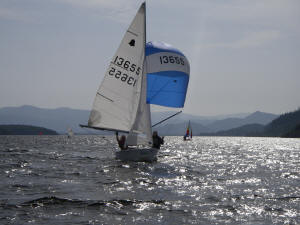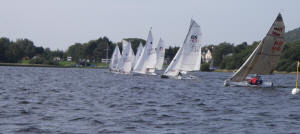 While the Tinker fleet held one of their annual rallies at Bass, some of our RS fleet ventured to Ullswater for their RS open. Robbie D and Toggle came out best from the competitive (if small) fleet. Counting four results from five races sailed they won with  6 points (inc 3 1sts) from local helm Neil ? who also had 6 points. Scumper and Zefer were 3rd and William and Lesley 4th. A busy, frustrating, (the 400s started behind and had to sail through the fleet of 28 RS200s) but enjoyable day's racing.
Sunday – A glorious day for sailing – a true southerly and sunshine. Club fleets endured an asymmetric windward leeward course (good for the asymmetrics, but Rhonwen wasn't impressed in her laser!) and were home and well through their lunch before the tinkers finished their race.
The breeze eased a little for the afternoon, but the course that Shunty set BEFORE coming ashore for lunch didn't prove to be the best thing since sliced bread (The best leg was from the finish to the shore!). Robbie D couldn't stay away from the water and took out the Topaz with Ethan. Old habits die hard, and the sail ended with a capsize, but Toggle was nowhere to be seen!
The tinkers' travellers trophy went, as ever to David Warren. Malcolm Ellwood was 2nd and Dennis Aldred 3rd
2 Up Trophy for the season went to Stewart and Barbara Warren, and the most improved helm was Nigel Marshall
Overall results for the weekend
TINKER TROPHY

PN    Boat  Helm          Class        1   2   3   4 Pts
 1  167828  I MACPHERSON  LAS          1   2   2   6   5
 2   91029  R BLACKBURN   RS400        2   1   7   4   7
 3  174889  S HALL        LASER RADI   3   4   5   5  12
 4   13655  N LEWIS       GP         DNS DNS   1   2  17
 5  173813  P BURNELL     LAS          5 DNS   6   7  18
 6    3520  S BROOKES     FF         DNS DNS   4   1  19
 7     937  W CARRUTHERS  RS400      DNS DNS   3   3  20
 8    1125  JoHALLIDAY    RS400        6 DNS   9   8  23
 9     103  A NICHOLSON   VARIO        7   3 DNS DNS  24
10   21863  D TODHUNTER   MS           8   5 DNS DNS  27
11  125514  R BRYCE       LAS          4 DNS RTD DNS  28
12     114  T FLYNN       M16        DNS DNS   8   9  31
13     924  S MCCLENNAN   FF         DNS   6 DNS DNS  34

                     Points for RTD =  9   7  10  10
                     Points for DSQ =  9   7  10  10
                     Points for DNS = 14

 3 races to count