Bassenthwaite were hosts to 32 boats from as far afield as Penzance (and Bombay) for the Enterprise North West Area Championships this weekend. At the same time open meetings were held for lasers and mirrors.
The weekend started in fresh winds (yet again!) and OD Phil Smith tested sailors endurance with a couple of beats from mark 2 to 7. The wind increased for the second race and there were numerous capsizes to keep the rescue crews busy. Rhonwen Bryce would like it pointed out that despite numerous capsizes, she completed both races while lesser mortals (did she mean men?) retired – but she suffered for it all day on Sunday!
Those with enough energy danced the night away in a disco which was sparked off with a prize draw of prizes Typhoon, the sponsors of the Enterprise Association tourers series. Sparks continued later in the evening as the OD suggested practising flame throwing technique using Drambuie as the fuel! As a result, Toggle Cowan was suffering from burnt lips on Sunday morning.
Sunday's racing was more serene, partly due to being the morning after the night before, and partly due a gentle force 1/2 breeze.
There was close, competitive racing all weekend as the results show.
Bassenthwaite presented a club burgee to the Bombay contingent and received a pennat from the Roay Bombay Yacht Club in return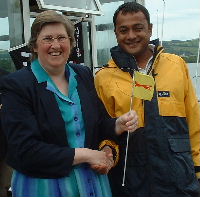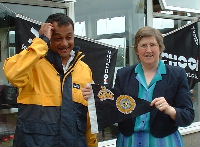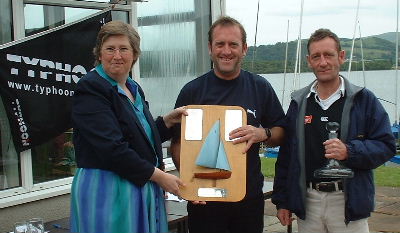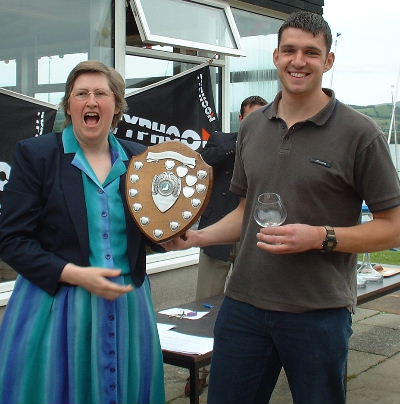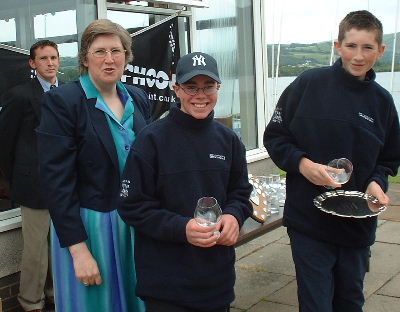 Overall results:
ENTERPRISE NORTH WEST AREA CHAMPIONSHIPS

PN    Boat  Helm          Crew           Club             1   2   3   4   5 Pts
 1   22487  J BLUNDELL    C BLUNDELL     HALLAMSHIRE      2   3   8   1   8   6
 2   22949  G BROWN       A FRY          HALLAMSHIRE      4   2   4   2   2   6
 3   22810  J WOODWARD    M BISH         REDDITCH         1   7   1   5  11   7
 4   22948  M LUNN        S AGNEW        WEST LANCS       9   1   2   7   6   9
 5       9  G DUTTA       U MORE         NAVAL SC BOMBA   3   6   5  11   1   9
 6   22272  N MILLER      I WILKINSON    WINSFORD FLASH   6   5   3   9   9  14
 7   22905  P PLESTED     S PLESTED      WINSFORD FLASH  11   4  10  12   3  17
 8   22859  N PIPER       S GREEN        TYNEMOUTH        8  11   6   8   5  19
 9   22652  J STEPHENS    R CRAWFORD     PENZANCE         7   9   9   4  10  20
10   22525  E DUNN        A MURRAY       LOCH LOMOND     12   8  11   6   7  21
11   23006  B MOSS        J MOORE        SHUSTOKE        13  10  12   3  15  25
12      52  A MONCHA      R MAHESH       NAVAL SC BOMBA  19 RTD   7  14   4  25
13   20900  J BANKS       J BANKS        SHEFFIELD VIKI   5  22  13  10  12  27
14   22885  M LUNN        A HALLIWELL    LEIGH & LOWTON  10  16  14  13  13  36
15   22114  L YOUNG       G TAYLOR       TYNEMOUTH       13  13  18  25  16  42
16   22896  P LAWSON      D SWAIN        BASS            15  15  16  19  17  46
17   22893  K TAYLOR      H WINWARD      DELPH           16  17  15  16  19  47
18   22506  J BRIGGS      A HOLLAND      WINSFORD FLASH  21  12  21  17 DNS  50
19   21333  C LISTER      M BARRETT      HALIFAX         17  19  28  24  14  50
20   22715  A TAYLOR      K HAYFIELD     DELPH           23  20  19  15  18  52
21   22901  P YOUNG       R CRADDOCK     BIRMINGHAM BRO  18  14  22  27  23  54
22   22354  H FREAR       C FREAR        SHEFFIELD VIKI  20 RTD  17  18  21  55
23   22196  K HOLMES      M HOLMES       HALIFAX         25  21  20  20  20  60
24   21793  B MCNICHOL    I BROWN        TYNEMOUTH       26  18  23  26  27  67
25   22112  C MORRISH     A REEVES       ST MARY'S LOCH  22  23  27  28  22  67
26   22270  A MORRISH     L YOUNG        ST MARY'S LOCH  24  24  25  21  25  69
27   21646  E PEARCE      J LAWRIE       TYNEMOUTH       27  25  24  23  26  72
28   22564  A PAYNE       K LAW          TODDBROOK       29  28  30  22  29  79
29   22167  C VICKERMAN   M VICKERMAN    HALIFAX         28  27  26  30 DNS  81
30   21983  J BERRY       J BERRY        ECPSC          RTD RTD  29  29  24  82
31   19540  R COCKING     R COCKING      DELPH           30  26  32  31  28  84
32   20378  G COLE        K BROOKS       IBRSC          RTD  29  31  32  30  90

                                        Points for RTD = 33  33  33  33  31
                                        Points for DSQ = 33  33  33  33  31
                                        Points for DNS = 33

 3 races to count
LASER OPEN MEETING 2002

PN    Boat  Helm                     Club             1   2   3   4   5 Pts
 1  161866  M SOMERVILLE             BASS             1   2   2   2   1   4
 2  130575  P HAMILTON               BURWAIN          2   1   3   1 DNS   4
 3  174889  A THOMAS                 BASS           DNS DNS   1   4   3   8
 4  161865  R DAWSON                 BASS             3 DNS   4   3   2   8
 5  125514  R BRYCE                  BASS             5   3   5   5 DNS  13
 6  160516  T CHITTENDEN             BASS             6 RTD   6   6   4  16
 7  122174  S ADAMS                  BASS           DNS DNS   7   7   5  19
 8  137629  M FAIRLAMB               BASS             4 RTD DNS DNS DNS  20
 9  174900  B MONTGOMERY             BASS             7 DNS DNS DNS DNS  27

                                        Points for RTD =  8   6   8   8   6
                                        Points for DSQ =  8   6   8   8   6
                                        Points for DNS = 10

 3 races to count
MIRROR OPEN MEETING 2002

PN    Boat  Helm          Crew           Club             1   2   3   4   5 Pts
 1   70153  G HUGHES      N EVANS        HOLLINGWORTH     1   1   2   1   2   3
 2   70010  G MCGILL      L MCGILL       SUNDERLAND       2   2   1   2   1   4
 3   69675  T SMITH       R SMITH        BASS             4   3   3   3   3   9
 4   68887  R HODGKINS    K HANKINS      BASS             5   5   5   4   4  13
 5   68852  N WOOD        B WOOD         BASS             3   4 DNS DNS DNS  14
 5   33434  S WATSON      L COOK         BASS             6 RTD   4   5   5  14

                                        Points for RTD =  7   7   6   6   6
                                        Points for DSQ =  7   7   6   6   6
                                        Points for DNS =  7

 3 races to count