With the sunny Good Friday blown away overnight, it became a bit of a no news day as the wind and rain put all potential contenders off (perhaps the Bass Ski team chose a better option this year by heading to France) so racing was abandoned for the day.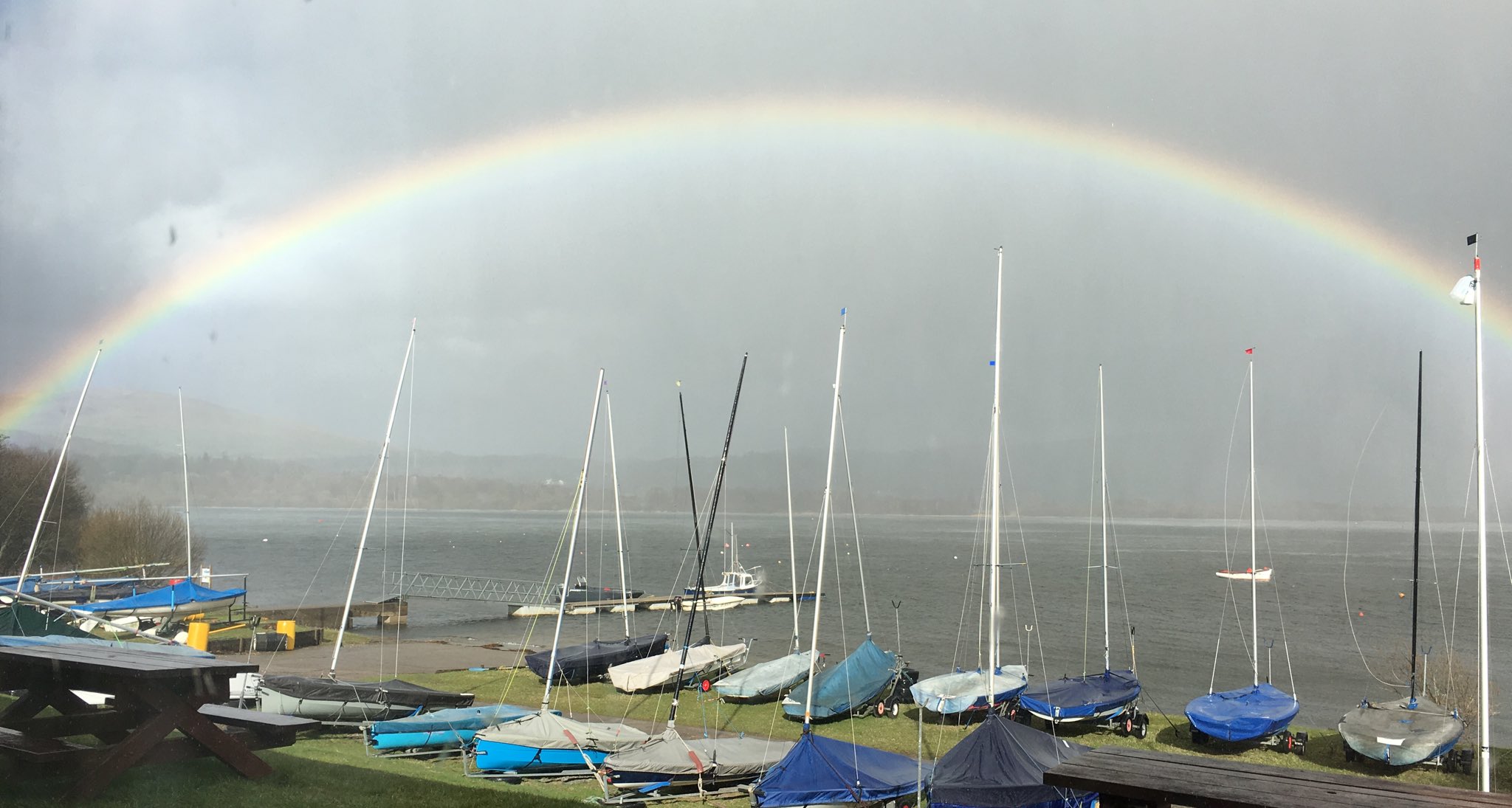 Easter Sunday appeared all the quicker (mainly due to the clocks going forward for British Summer Time), but looking down wind the tops of the waves were visible (not good!), and there was a dearth of sailors interested in taking to the water, so we had the second non-sailing day of the season. It turned out to be a mixed day of sunshine and showers with the occasional rainbow to boot.
Having been washed out of their tent, Pete and Karen were pleased to spend a comfortable Saturday night at home only to appear next day with a caravan!
Competition would get off the ground later in the day with the annual egg dumping competition. Would it be a child prodigy that would take the honours? Well, he may have been a child prodigy (some time ago), as the winner was Charlie's dad, Martin!
While the South endured storm Katie on Monday, we were able to get the sailing season off the ground (well on to the water) with a couple of enthusiastic fleets. Ever patient Peter helped Lottie to rig her boat – she managed to make it to the line a little late, but Peter had to wait till the afternoon for his first race. The wind was blustery, and there were several capsizes (is Zefer the Sailing Sec taking on Roy's mantle of being famed for capsizing?!), and some consequent retirements as sailors headed for a warm shower, but the rain held off during racing at least. The winds led to some exciting reaches and good racing.
Dave/Lynn took two wins from Mike/Eric in the GPs to win the Bass Tankard, while Phil/Naomi beat Hugh in his Vareo by 10 secs in the first race, and Robbie D/Banter in an RS400 by more than 70secs in the second race. The conditions enabled the RS Aeros to put in a good show with Harry sharing 3rd place with Robbie in the first race, and visitor Caitlin earning a would be 5th position in the second race. Phil/Naomi's two 1sts won them the Easter Trophy.
Snippet of the day – Becky was entrusted by Oscar to look after some of his Easter chocolate, only for Robbie D to start tucking into it before Becky caught him!
Keith Thomas has sent a couple of shots of the Bass Ski team in France. It looks slightly cooler than Bass!