This weekend Bass held the FF Northerns. On Saturday the weather was fantastic although the winds very light and challenging. A strong fleet of 31 boats took to the water and it was Steve Goacher that again mastered the light airs to reign as overnight leader with two bullets.
The eagle eyed amongst you will note that one boat, being sailed by brothers Alan and Eric Smith from Bass, had sail no 1. What you may not realise is that it is actually FF #1. It has been restored by the brothers and relaunched especially for the event. For the maiden voyage, it was sailed in its original state complete with wooden mast, boom and red cotton storm sails (not ideal for the light wind conditions!).
Sunday's conditions started off like a mirror, but the wind filled in for a slightly belated start just after 11am. Steve Goacher was a premature starter and had to fight his way back from 12th position at the windward mark, finally reaching 4th. Adrian Tattersall won the race but as his next best result was a 5th, it meant Steve couldn't be beaten and he was able to sit out the last race. Dave Brockbank with a 2nd, 4th and 6th came 2nd. Bass helm Scott Beattie, with John Somerville, found their form for the second day with a 1st and 2nd to secure 3rd overall.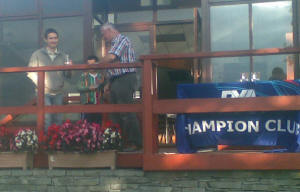 With no club racing, three RSs took the opportunity to sail at Ullswater's one day open meeting with RS200 and RS400 fleets. Five races were sailed, with four to count, in very unsettled airs that ranged from sitting out (briefly) to flat calm. Out of the 33 RS200s Robin and Ethan Dawson sailed well to secure 2nd overall. Of the 7 RS400s, it tended to be difficult for helms to actually work out what position they had achieved until the results were published. Some consistent positions by William and Ruth gave them 12pts and 3rd overall. Scumper and Zefer had 13 pts and finished 4th overall. Oh to be back at Bass for some steady winds!?