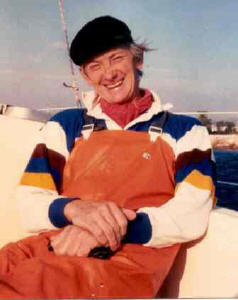 Gerald Powell passed away peacefully in the early hours of Tuesday at Eastcroft care home, Harrington following a long struggle with Alzheimer's disease.Gerald will be remembered by many as the cravat wearing Yachtsman who really enjoyed messing about in boats rather than seriously racing them.

He joined the club in the mid 60's sailing GP 14s. Some may remember his Fisheye motif, a nod to his classical education and his penchant for black sails, which he later discovered stretched when exposed to UV light!

He rigidly resisted self bailers questioning why anyone would wish to put a hole in a perfectly sound hull.

Working often behind the scenes he was instrumental in negotiating the lease for the foreshore with Lord Egremont, the local education authority facility at Scarness and the formation of the Mirror class at Bass, and his son Robin was very successful in the fleet. Similarly, his life in education, and the links with sailing, enabled Bassenthwaite to be put forward as a venue for the NSSA regatta. This proved so successful for the Club and the NSSA that it has been repeated a couple of times since.

As Commodore in 1976/77 he was part of the team organising the RYA Dunhill Team racing Championship which took place at Bass which HRH Prince Philip attended in his capacity as Patron of the RYA.

In later years he supported the club as race officer and on the rescue boats.

On his retirement he set himself the goal of achieving Ocean Yachtmaster. This he did.

Gerald had a love of the outdoors and gained great satisfaction from arriving at places using only 'natural power'. To this end he enjoyed walking, backpacking and rediscovered his love of cruising and together with his wife Gillian cruised many miles in the Mediterranean and the West Coast of Scotland.

His family have all sailed at the Club during their formative years and his daughter Emma Smith remains a member with grand-daughter Katia, as does his wife Gillian. Daughter Elaine and her family continue their links with the club through Junior racing and Bass Week.

He will be missed by many.

His funeral was held at All Saints Cockermouth where Elaine recalled many fond memories of her father. It is clear from speaking to Elaine and Gillian, that Gerald's habit of keeping diaries and logs of events could make for some entertaining reading! Watch this space?!