The strong morning winds abated before racing started, and with a southerly blowing, several sailors wondered whether they'd be sent around the lake! Fortunately the sailing remained in the main bay as the wind strength varied considerably, and it seemed as if it may not come back at one stage, but it did.
With the fear of losing some racing on Sunday due to forecast high winds, the visiting Catapults opted to squeeze in a third race, and it introduced a new winner outside the Ede family!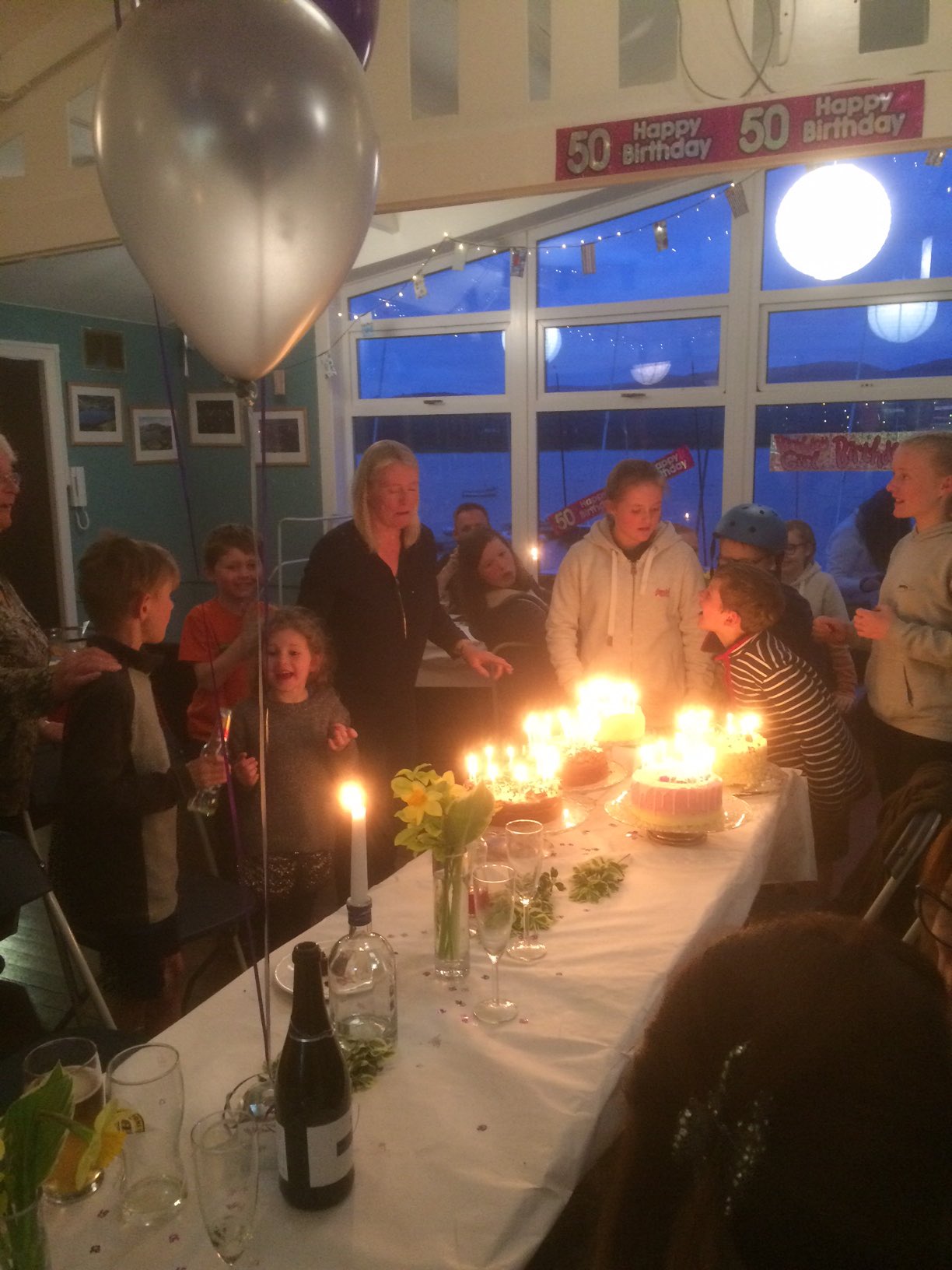 What would Sunday bring? Perhaps plenty of wind to blow these candles out and time to recuperate from Andrea's 50th birthday bash?
Sunday arrived with a lovely sunny day, and light winds first thing in the morning that rapidly built up with a southerly wind that formed white horses across the lake. The Catapults had decided to enjoy the lakes rather than risk breaking their boats, and there was a lack of enthusiasm to get on the water by anyone else. So after a couple of hours postponement, no sign of the wind abating, racing was cancelled for the day.
A barbeque is planned for the evening.
Monday's forecast wasn't dissimilar to Sunday's in terms of strength, but with the wind swinging to the East, the waves didn't have so much time to build! There was a good size fleet eager to get back on the water, and although the wind freshened for a while at the start, overall the conditions were sailable, and there were some spectacular spinnaker legs. Several boats did capsize, and most carried on to the end.
In the GPs, Andy/Phil didn't take long to make good their poor start, building up a strong lead, and taking a further win, and the Lyne Tankard series, in the afternoon race.
In the F15s, Ian/Lezli-Ann noticed their genny was loose at the tack on the first beat, so spent some of the downwind legs tying it down again before starting the attack on John/Tim, and taking the lead by the end of the first lap, which they held through to the end. They took the lead in the 2nd race as well, and their position was a bit safer after John/Tim had problems with the spinnaker sheets going under the boat. Ian won the race and the Jak Pot trophy.
Scumper/Zefer had various scary planes, but stayed upright to take two wins in the handicap fleet ahead of Steve/Ruth, and won the May Holiday trophy.
There was only one race in the Mirror/Topper Peel Pot series which was won by Bean ahead of Banter, who spent the afternoon practising in Ethan's RS600 before he takes to the water in his own Musto Skiff