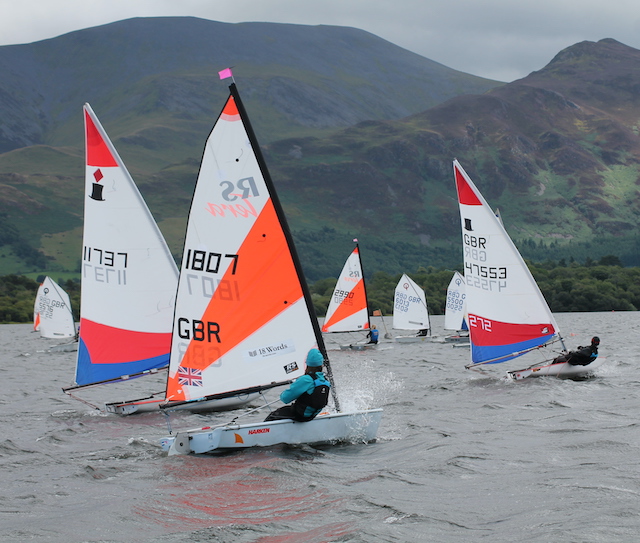 Racing got underway at 12 noon, just after a squall arrived, but didn't cause many capsizes. With the wind coming from the SSW the downwind leg of the trapezoidal course was occasionally in the shadow of Sale Fell, and unexpectedly light. As some gusts came through there were various capsizes, and some spectacular planing. The race was won by Max Rawlinson/Eddie Johnson in a Feva, with Mya Fance/Seren Green, also in a Feva, 2nd.
The course was slightly narrower in the next race, and it helped keep the boats in the wind. Again, there was some windy conditions just before the start, and the squalls passing through kept the rescue crews occupied. Max/Eddie took another win with Oliver Hirst in a ILCA6 2nd.
After a short break ashore, the wind freshened yet again during the start sequence!. Shortly after the second start, a widespread squall soon flattened a quarter of the fleet, so the was abandoned and sailors headed ashore.
With no major damage, and the wind settling, another attempt at starting the third race was made. However, there proved to be two winds, with the gusting wind taking precedence, so several start sequences were stopped, as the OD amended the course waiting for the wind to settle. Sailors had clean starts for all three races, and there were more capsizes, and some great planing conditions at times. With the wind freshening again, the race was shortened, and sailors headed ashore for the evening, with the temptation of a visiting fish and chip van, although due to unforeseen circumstances it wasn't able to attend!
Sunday's forecast was for stronger baseline winds from the west but with bigger gusts. Having checked the wind before the start, the OD deemed conditions suitable. About a third of the fleet were less optimistic and opted not to race, but those that sailed had more good racing, great planing conditions, and some shifty, capsize inducing gusts!
Max Rawlinson/Eddie Johnson continued their mastery of the conditions, winning all five races, and the event overall. Similarly, Oliver Hirst had two more 2nds, finishing 2nd overall. George Jacobs in a Byte was 3rd.
Best Bass helm was Cameron Somerville in a Laser 4.7 finishing 10th overall. Brother Matthew and Henry Bullen, in an RS200, may have beaten him had they not spent so much time swimming!