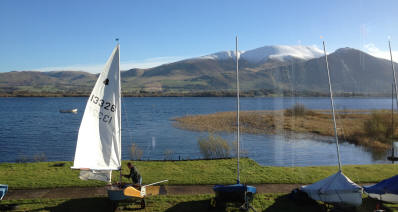 Cool but otherwise perfect conditions set the scene for the start of the Winter Series. The fleet of thirteen boats set off in a good breeze to keep the sailors active and warm in the cool airs. The asymmetrics even managed to plane for a while on the main reach.
First time back into his Merlin after a couple of months, Steve/Ruth showed a clean pair of heels up the first beat, but Mike/Kayla were close on their tail as they rounded the windward mark. As the race went on some gaps opened up, but the wind eased as well such that by the end it was drifting conditions for the final half of the fleet.
Unusually there was four Toppers racing, and Ethan was able to demonstrate his mastery of the boat by leading with an ever increasing margin as the race went on.
The failing wind on the final lap did the tail enders no favours in terms of handicap positions. Steve took the honours from Mike on fleet handicap, and Richard Broughton won the personal handicap from Ethan.
With the wind failing to return over lunch, the OD (or was it his assistant?) called it a day and went to watch the footie!