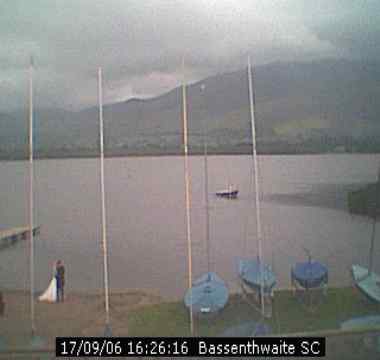 The fleet challenge C brought out a number of new faces to racing including Sam Evans and Jonathan Connor. With racing being held as three (short?) races each day there's the opportunity to practice starts, and the added bonus of personal handicapping (rather than fleet handicaps) so it's possible to get a couple of good results in before the computer catches up with you!
Jonathon was overnight leader and was tempted to forgo work to maintain that lead, but he didn't. He was of course doubly handicapped by having Hugh in the front end on Saturday (not good in light winds!)
Sunday started light and drizzly, and then the wind disappeared so there was no racing until after lunch when OD Ian Macpherson got all three races in, but the wind never seemed to settle down. Perhaps if the results had been calculated after race 5 no-one need have sailed the last race.
The results seemed a bit challenging to Sam's dad as he didn't realise Sam had won the series (and that he'd have to come to the annual dinner to collect his prize!)
Anyone keeping an eye on the webcam (now that's it's working again) may have noticed the happy wedding couple having  a photo session. Talking of which, congratulations to Grahamo and Sarah on their recent engagement. No doubt last night's party left a few people feeling very sorry for themselves today!
FLEET CHALLENGE C

PN    Boat  Helm          Class        1   2   3   4   5   6 Pts
 1    1666  S EVANS       RSFEVA       2   2   6   6   1   5  10
 2     937  W CARRUTHERS  RS400        3   4   4   5   4   4  15
 3  174889  S HALL        LAS          7   6   5   4   5   2  16
 4  130338  RiCRITCHLEY   LAS        DNS DNS DNS   1   2   1  18
 5    1066  J CONNOR      RSFEVA       5   1   3 DNS DNS DNS  23
 6     103  A NICHOLSON   VARIO        4   5   1 DNS DNS DNS  24
 7    1140  J CHRISTIE    LAS        RTD RTD DNS   2   3 DNS  25
 8  167828  I MACPHERSON  LAS          6   7 RTD  OD DNS DNS  25
 9    1072  R DAWSON      RS400        1   3 RTD DNS DNS DNS  27
10     913  JoHARDIE      RS200      DNS DNS DNS   3   7   3  27
11   13401  G ASHBY       GP           8   8   2 DNS DNS DNS  32
12     562  A SMITH       ENT         OD DNS DNS DNS DNS DNS  45
13   13142  P ALFORD      GP         DNS DNS DNS DNS   6 DNS  48

                     Points for RTD = 10  10   9   7   8   6
                     Points for DSQ = 10  10   9   7   8   6
                     Points for DNS = 14

 4 races to count
PS Hugh has had the video out again