After some very wet weather over the past few days, Sunday started off with some drizzle which faded before racing was underway. The light breeze held throughout the race and was sufficient to power the fleet of 11 boats around the course, though none of the forecast gusts came to fruition.
Mik took no chances and turned up in time for the first, and only, race of the day. Indeed he was first boat to finish, albeit it having sailed one lap less than the faster fleets!
Joan/Jack took an early lead, though Joe, who was always nearby, did cross the finish ahead of them, not that it prevented them winning the race on fleet handicap over two mins ahead of AJ/Sue, with Joe a couple of secs later 3rd. Joan's win put them a point ahead of Steve/Ruth to win the series.
On a personal handicap basis, AJ/Sue secured a strong win ahead of the next four boats, led by Joe, that all finished within 20 secs of each other. AJ's win earned him the series, with Joan 2nd.
As for the last boats to finish, it was to be a battle between Alastair and Peter. Trailing at the last mark, Alastair tacked early but seemed to stall. Meanwhile Peter put in a last minute tack and lost to Alastair on the line. As there was 'a crate of beer' on the outcome, Peter did try to bribe the OD to have the positions reversed!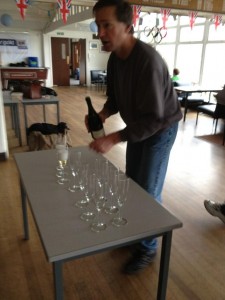 The other side bet for the champagne between AJ and Alastair was a bit of a wipeout, and so AJ opted to buy his own prize (as Alastair had bought so many of the interim prizes)!
As there was only one race, sailors had a chance to pack their boats away for the winter close season. Mik didn't realise that he'd left his rudder on his roof, and didn't notice the hand waving and horn blowing of people trying to tell him! Fortunately he had to stop at the gate where someone caught up to tell him.
So that brings the 61st season to an end. The prize giving and AGM are being held next weekend, and it won't be too long before we start over once again!