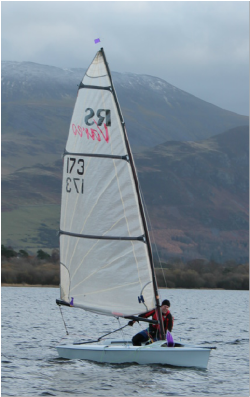 Despite early rain, the morning started with glorious sunshine and a light breeze. Alan was out early to tune his GP to ensure he maintained his lead in the private competition with Alistair – a 'gottle of geer' riding on the day's racing, and a bottle of champagne on the series! Perhaps it was this competition that led to small mistakes by both parties – Alistair briefly capsizing, and Alan hitting a mark and doing a penalty turn.
Thirteen boats took to the water and enjoyed some good racing in varying wind conditions. Joe sailed well in his RS300, staying ahead of Scumper for most of the race, though on handicap he slipped back to 4th. Less than a minute separated the first three places, with Scumper winning ahead of Steve/Ruth and Joan/Jack. Paul/Emily took the honours on personal handicap in their Graduate.
The sun was well gone by the time afternoon racing started, but the wind held long enough to get the race in. Mik had arrived ready for action in the afternoon race, and was pleased that racing hadn't started without him for a change! Steve/Ruth won finishing marginally ahead of Joan/Jack on handicap. Steve currently leads the series albeit on equal points with Joan.
Steve won the race on a personal handicap basis as well, with just over a minute separating the next five places! Paul/Emily lead the personal handicap series, three points ahead of Alan.