Another glorious day to brag about – especially as other parts of the country will be publicising a 'typical wet bank holday'
The day started with a good south easterly, but it faded as on Sunday. Fortunately it sprang back and racing got underway almost on time (OD Ian Campbell had threatened to start on time all weekend). Both races had a beat to mark 7 just off Scarness Bay, and the fleets all had to endure varying wind strengths throughout. Being at the right place at the right time helped of course – but then that's how top sailors keep winning!
Neil and Judith Currie led the first race, but lost out on some offwind legs to Robbie D who took the lead again, and won it on handicap. The Smith brothers in their RS200s again sailed well, and it was Phil and Naomi that won the final race, and snatched the series from Steve and Ruth. Toggle had further repairs to undertake after he broke each shroud fixing on two consecutive gybes!
Scott Beattie won the F15 series with three straight wins, and John took the helm for the final race, but was beaten by Mike Moore and Sally Roberts who had sailed consistently all weekend with three seconds.
The GPs was won by Mike Fairlamb after Dave Lawson opted to move to the front of Dave Nicholson's to give some tuition. Lynn wasn't left ashore though – she opted to crew in an Enterprise with Mark Ninnim.
Toddy secured another couple of wins to add to yesterday's and won the series with Alan Waugh second.
All in all an excellent weekend, with some challenging sailing
Easter Sunday Update
Another glorious day started off with a gentle southerly breeze that faded away in time for the scheduled 11.30 start! Sailors had an early lunch and racing got underway at 1.30. It's a pity several sailors weren't quite ready!
Mik Chappell with John Prestidge in a F15 were on the line in time and took a good lead, but Scott and John made up ground and won the race. It was good to see several former F15 sailors turn out to race – could it be true that there was about 600 years of experience amongst the helms and crews of the five boats?!!
In the handicap fleet William and Elaine were on the line just in time to cross the fleet on port. They continued up the left hand side of the beat to maintain the lead until the start of the second beat 🙁 It was to be Steve and Ruth that then took the lead and the honours. In the second race, Steve again took the lead, but the wind dropped mid way through and the gaps between leading boats narrowed. Andy and Tim Smith won on handicap with Mark Ninnim and Rob Smith second. Scumper didn't have a good day – late for the first race but didn't manage to get back in the running, and disqualified from the second race following a protest by Andy Smith
Dave and Lynn led the GP fleet in both races from Mike Fairlamb
Alan Waugh stayed upright(!) and won both races from Toddy – well that's what the results stated at the time! Actually they each won one.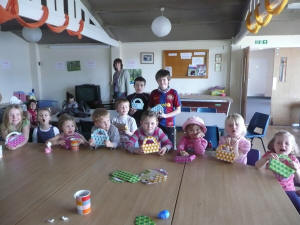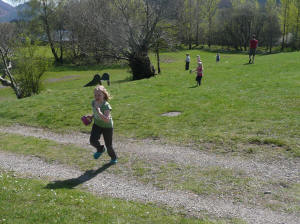 Off the water, the kids had fun with an Easter Egg hunt, the adults got excited about the egg dump only to be beaten by Ethan for the second year running. There was then a spice evening followed by a lesson in salsa dancing. There were a few people with a couple of left feet, but they all stood the pace and enjoyed it.
Sunshine, Shorties and Smiths
What a wonderful for sailing. There was a decent breeze with sun out and, although the air temperature still nippy, more sailors opted to bear their legs in shorties. The Smith family were out on the water in force. Dad Alan was OD, Andy sailed with Tim, Rob sailed with Mark Ninnim, and recently married Bean and Naomi tried out their new RS200. Also, Alan's brother Eric sailed with Mike Fairlamb.
The GP fleet was led by Dave and Lynn Lawson with Mike Fairlamb giving chase, however, that was not helped when he forgot to go through YZ and lost a lot of ground returning to correct his error.
Alan Waugh was showing Toddy the way for a while, but his chances were scuppered following a capsize and he subsequently retired.
Robbie D and Big E led the handicap fleet racing, though Scumper and Zephyr kept coming back to challenge. Toggle lost a shroud in the second race and had to retire