The long weekend started on Friday evening with nibbles and drinks followed by a quick Queenie quiz. The winners celebrated by eating their prize of a bar of chocolate….
Saturday morning saw a brief visit by a King(fisher), but the light airs were blown away by the incoming breeze which would give those that ventured out great sailing conditions, albeit hard work! Meanwhile the morning was spent decorating the clubhouse and grounds with bunting and all things Royal in preparation for the various parties and celebration being held over the next few evenings.
Saturday's racing comprised fleet handicap and personal handicap races, both counting towards the weekend's Diamond Jubilee Trophy.
The wind was not as harsh as expected, and 22 boats made the start line, though through various capsizes and other mishaps not all finished! Scumper had an excellent first race despite complaining about most offwind legs being too tight for the spinnaker and took 1st place from Dave/Lynn.
Mark/Emma had a very keen start in the 2nd race but lost the advantage when they had to do some turns. Alex/Olivia scuppered their chances by forgetting to round 9 on all but the last lap. John Reekie/Joe Watkins sailed well in his Merlin in the second race taking 1st place overall from Andy/Keith Thomas
The overnight leader was Mike/Kayla, 1pt ahead of Scumper.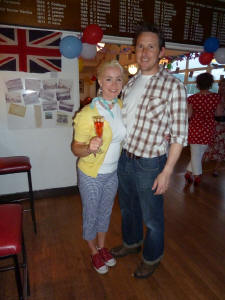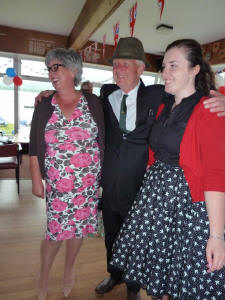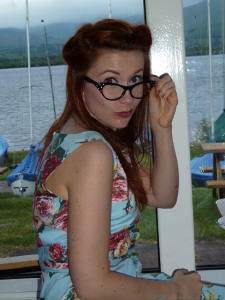 `
| | |
| --- | --- |
| In the evening there was a 50's themed fancy dress with bring and eat buffet in which there was a wide array of foods and puddings from that era. But did they have Gaviscon available in those days?…. | |
Sunday started with the Topper challenge. They say one volunteer is worth 12 pressed men, and it certainly seemed that there were more people being coerced into sailing than volunteering! That said there were enough people for 7 teams. Little did they know what they were letting themselves in for.The race started with a Le Mans start, and shortly up the first beat the rescue boat crews, led by the Commodore, started to ensure the racing was even by jumping on lead boats and capsizing them, or towing the tail enders up the beat! Not many boats escaped some form of skulduggery, especially when it was time to change crews as boats were set upon by rival teams.Even when ashore, the ground crews inhibited the progress of helms getting to the finish.
Sam made the finishing post

But not without a chase by Lynn
(Not many escape her!)

Andy T tried to escape…

…but was caught!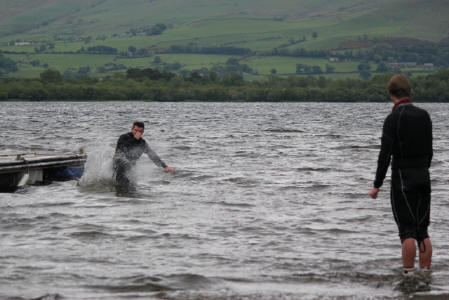 The Commodore paid the price and was pushed into the lake at the end!

Group photo of those that could stand the cold!