Due to the cold weather, the scheduled street party was held indoors, red white and Royal blue was the theme. There was again a great selection of sandwiches, nibbles and cakes to keep everyone going until the barbeque this evening!
First Bank Holiday of the Week!
What a glorious start to the bank holiday – sunshine, but cool airs. The wind tended to shift through about 90 degrees with the various gusts that came through. As the first race was a fleet handicap pursuit, the wind fading shortly after the start gave a good advantage to the chasing boats and they were well bunched early on. Ian/Lezli-Ann were unfortunate not to be blanketted by Simon/Jon (who were over but returning to the pre-start side) on the start line and were identified aspremature starters, but Mike was able to block their return to the start line for a short while. Andy/Rob Smith took an early lead and held off Scumper for a good while, but it was Robbie D/Sam Wright that worked through to the front and take the honours.
The afternoon race was a round the laker. The wind was light but swinging through almost 135 degrees! In a rush to get the fleet started before the next major shift, the fleet set off in slightly better than drifting conditions. However, within three mins, just as Ian/Lezli-Ann reached the start line(!), the wind filled in and fortunately continued to power the fleet down the the lake to 10 and back up again.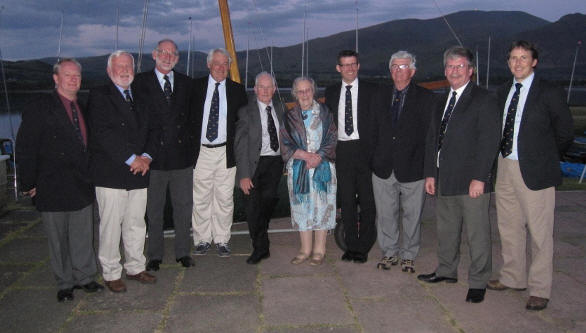 Various past Commodores with founder member Val Rickerby at the Diamond Jubilee celebration dinner
Second Bank Holiday of the Week!!
It may not have been quite as sunny as Monday, but the wind was better, and stronger than forecast.
The morning's race was a personal handicap pursuit, followed by a fleet handicap race to complete the Diamond Jubilee series and weekend's sailing.
The wind held for the morning race, but the dry weather faded and the drizzle came in. The groupings caused by the personal handicaps seemed challenging for some, especially Scumper who had to start with several F15s, but they had to persevere as there were no discards in the overall series. By the last lap the fleet was quite closely grouped, but Alastair/Claire kept their nerve, made no mistakes on the final beat, and won by a minute with Andy/Rob 2nd.
During lunch the wind eased, but there was sufficient to send the fleet down to mark 11 for the final race of the long weekend.
The weekend ended with a prizegiving, and a special thank you for Andrea, the very sociable social secretary, for her organisation over the weekend.
Scumper for the Diamond Jubilee series

the Topper Challenge team
Jon treasuring his broken tiller prize
(as he dumps it in the bin!)