It was fanstastic to have a fleet of 23 Flying 15s for their northern championship. They enjoyed champagne sailing conditions throughout the sunny afternoon. Of course, there were a few shifts to contend with, but that's Bass!
The fleet got away to a clean start for the first race, and the first beat seemed to set the tone for the four leaders, none of which changed position, despite various challenges, so the win went to Andy McKee/Rich Jones from Dovestone. Best Bass boat was sailed by Graham Kirkpatrick/Alan Smith who finished 4th.
The next start was not quite as orderly, with two general recalls before various helms offered the OD advice on introducing the black flag, Simon Longstaff being one of them. It's a shame he fell foul of it (and perhaps fortuitous that usual crew Commodore Jon Denwood was substituted due to back injury)! Perhaps that was the reason he was leading the at the windward mark before being informed he was out?
Although Andy/Rich sailed well, they were pipped on the final beat by Steve Goacher/Tim Harper from RWYC. This time it was Neil Currie/Rory Yardley that led the Bass fleet, finishing 3rd.
After a short break, the fleet headed out for the third race of the day. Another clean start, but it was the first leeward mark which was so busy that there were various bumps, threats of protests, and turns done. However, Nigel & Gavin Tullett from RWYC kept their lead, though only by a smidgen on the finish line as Mike Preston/Chris Robinson challenged!
So with no discards, overnight lead was held by Steve/Tim, with Andy/Rich 2nd. Best Bass boat in 4th sailed by Andy Smith/Andy Tunicliffe
Sunday's weather was more of the same – sun and a shifty force 2. There was plenty of competitive racing, although not as crowded at some of the marks, there was the incident resulting in turns being required!
In race 4 Steve/Tim broke through to the lead and showed a clean pair of heals to Neil/Rory, and strengthened his lead in the series. With main competitor Andy McKee finishing 4th, Steve needed to finish in the top three to be assured of the championship.
Andy/Rich took the final race (2nd overall), Steve/Tim 2nd (winner) with Andy/Andy 3rd (4th overall), and Nigel/Gavin 4th (3rd overall)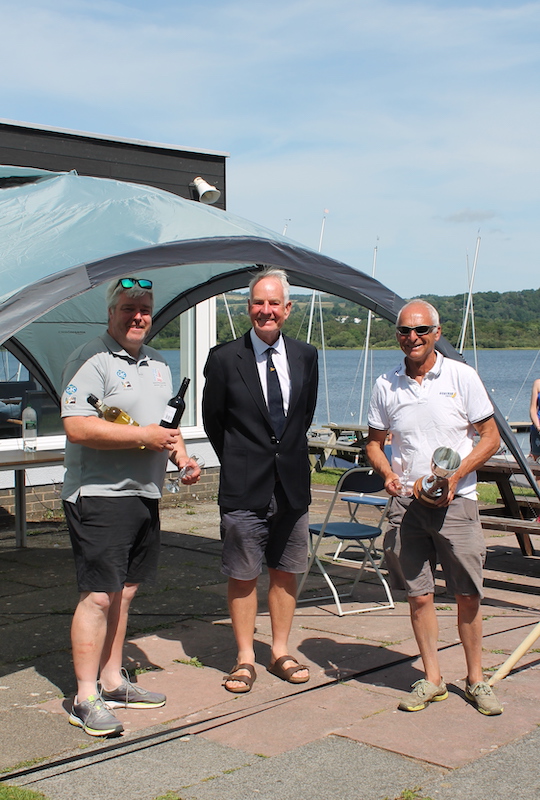 Final results