Saturday's horrendous forecast was right! Wind and rain was probably the cause of a lack of interest and competitors. OD Toggle was ready and raring to go (home), but that was it. Shortly after the due start time he raised N over A and that was it, racing cancelled for the day
Sunday could be a better day – we hope! Can you spot the difference?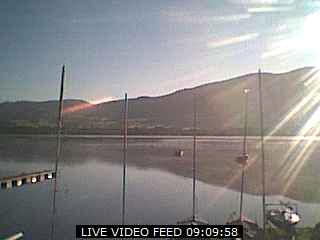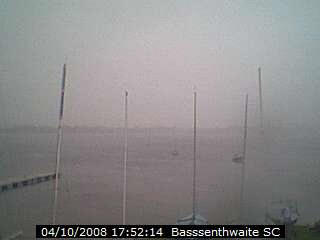 The wind and rain passed through overnight, with sunshine, but no wind, the view of the lake was as good as it gets
The wind was due to fill in from the north, but whether it would come in time the sailors just had to wait and see
Surprisingly, they didn't have to wait long. The wind filled in from the north as forecast, although a swinging wind meant the windward leeward course was a bit of a fetch for one of the laps. Shunty and Ruth headed for 3 instead of 2 on the first beat putting them back into 4th place, but worked their way back through the fleet to finish 2nd behind Robbie D and Toggle who were making a guest appearance in Roy's RS400
Mike Moore and Kayla sailed into a big lead ahead of Alan Nicholson and Sam Hall
The wind was due to freshen, but there was the expectation that racing would be over by the time it did. The wind did hold but not particularly strengthen. There were some significant shifts to contend with, together with holes that swallowed up parts of the fleets.
Julian Cruickshank in a GP worked his way through one of the holes so well that he got to the front of the fleet and beat Mike Moore on the water! Also, the Mirrors both did well with Mik Chappell securing 2nd and Alan Waugh a formidable 3rd.
The last race in both series was the qualifying race for both Robbie D in the Asymmetric fleet and Mike Moore in the MJM series. Mike's wallowing in the hole cost him the opportunity of winning the series which went to Sam Hall. Robbie D had a poor first beat but worked his way back to 2nd overall to snatch the series from Joan and Jack Hardie
Next week the Flying 15 team racing is being held alongside club racing for the October Series