There was a good forecast, wind and weather wise, for this weekend's GP14 open meeting. 17 boats turned out to compete. The first race was sailed in pleasant sunshine but with a sadly inconsistent breeze. The forecast southerly was usurped (mostly) by a north westerly, which varied considerably in pressure.  Kites were up and down on many legs of the course, with the regularity of the proverbial nether garments of  a lady of ill repute. Julie Waddington was first round the windward mark and headed the fleet until, unfortunately, drifting onto a mark whilst becalmed. Dave and Lynn Lawson showed good speed and a shrewd use of the conditions to get clear of the fleet and then hold on to take the gun. Martin Brennan and Alastair Knott were second, with Julie and Chris Waddington third. The Race Officer elected to take the fleet to the other end of the lake after lunch, where the forecast southerly prevailed. Gradually the sun faded but there was a corresponding increase in breeze. Paul Bowmer made excellent use of the blustery conditions to reach the windward mark first at the end of a long first beat. However, Martin Brennan came round the windward mark some distance behind, in third place, but hooked into a shift with much more pressure and planed over the top of the leaders. He went on to win, as the wind gradually died, with Paul and Vicky Bowmer in second and Dave and Lynn Lawson in fourth. Andy and Rob Smith  gave up the unequal struggle to hold their position, as their boat disintegrated around them, and headed for home.
Racing started on Sunday in a light, but more consistent, north westerly. There was more pressure on the right hand side of the first beat and Mike Fairlamb, who was furthest out to the right, led the fleet round the windward mark, with Andy and Rob Smith in close attendance. The Smiths took the lead off wind and held on to win with Dave and Lynn Lawson second and Mike Fairlamb and Rhonwen Bryce in third.
Race 4 was sailed back to back with a slightly stronger breeze. Andrew and Duncan Greenhalgh from Annandale found their way to the front of the fleet with Andy/Rob Smith 2nd. Dave/Lynn Lawson had their worst result to date finishing 5th with the overnight leaders Martin Brennan/Alastair Knott finishing 4th. At lunch the first  three boats were all on equal points so the last race was all to sail for. The first beat was crucial, Andrew Greenhalgh led at the windward mark by tghe narrowest of margins from Andy Smith, with Dave Lawson and Martin Brennan following. Andrew Greenhalgh led the race, and although the only helm to secure two 1sts, was to finish 3rd overall. Andy Smith fell back to third to finish 2nd overall, but Dave/Lynn Lawson fought through to 2nd and took the title.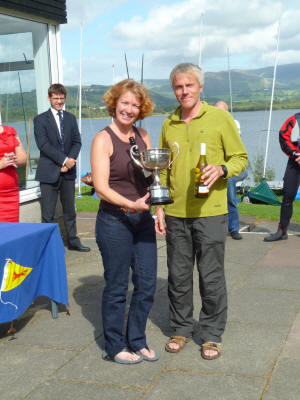 Winners Dave and Lynn Lawson
Photos courtesy of Keith Thomas showing Andy/Rob Smith leading race 1, and Martin Brennan/Alastair Knott winning race 2