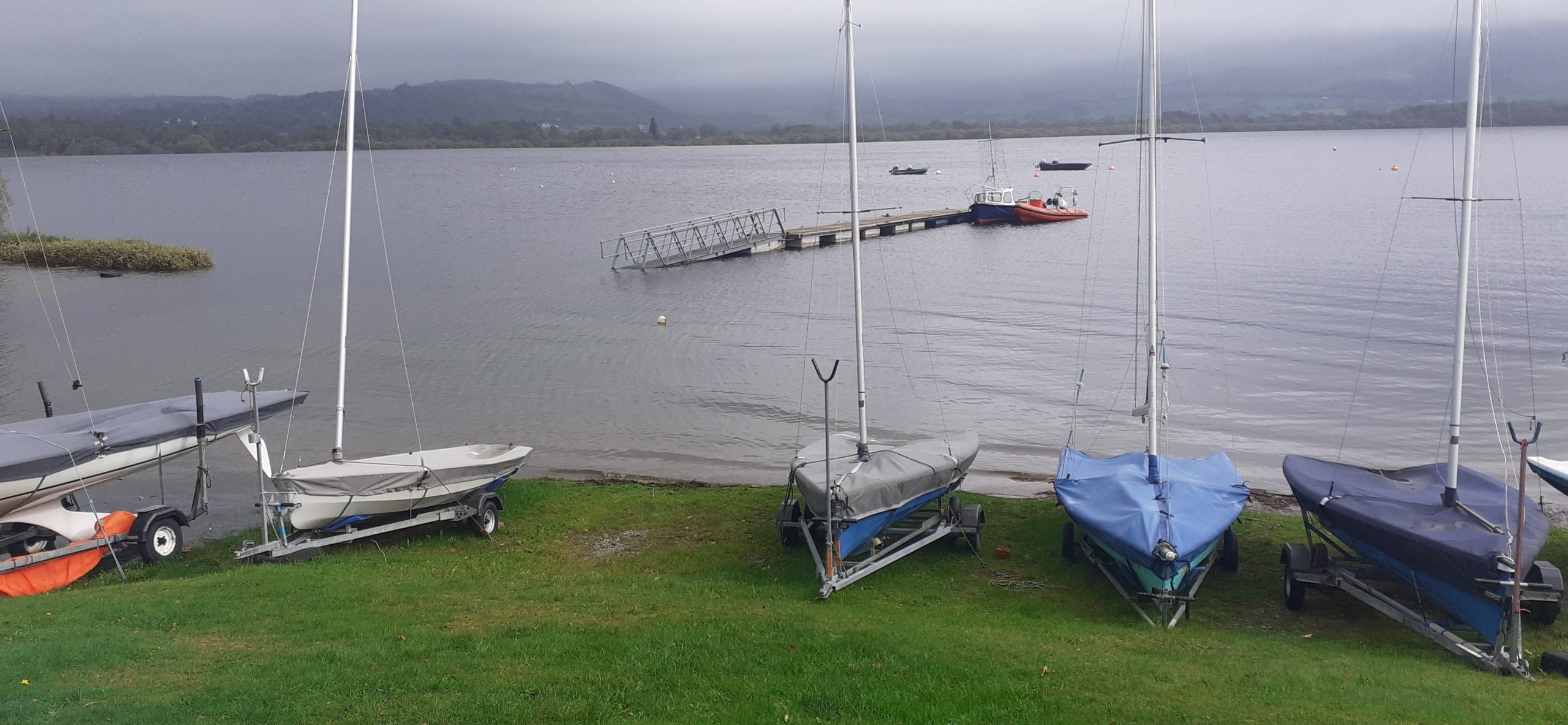 Well not exactly sultry, but still very mild! The recent rain has found its way into the lake, which has risen significantly through the week. Ensure your boat is safe in case of significant rises in the lake level over the next few days.
Though overcast, the rain held off all afternoon and there was a good F3-4 for the select group of sailors to enjoy some good planing conditions. The downside being that most boats had a capsize, and Neil/Archie continued there streak of retiring due to gear failure, this time due to the kicker block giving up the ghost!
Neil in the RS200 had been leading the first race before retiring, but Alex in his Laser was close on his tail. Paul in a Radial lassoed the leeward mark with his mainsheet before capsizing to get free.
Sisters Hannah and Zara continued their learning curve, and were loosely guided by Neil G to get them around the course successfully, but one race was sufficient, especially after a brief capsize.
That left just Alex and Paul competing in the 2nd race. Though Alex led, he did capsize on one gust, enabling Paul to remain in striking distance for the rest of the race.
Latest results (when available)
Sunday was brighter, still mild, with little breeze but numerous sailors keen to race.
A small triangular course was set to keep racing manageable, but the wind continued to strengthen, reducing average lap times to less than 8 minutes, enabling the fleet to sail the full course of five laps! Also, the wind veered so it was necessary to relocate the start for the next race.
Unfortunately the wind opted to fight itself for a while leaving the sailors somewhat in the lurch, so the race was shortened after one lap. Of course, the wind then started to settle in from the forecast southerly direction with the best wind of day (although it only lasted about an hour). Hey ho!
Latest results (when available)