….or so it would seem as there seemed to be so many people whinging after the morning race. First there was the OD arriving early to see a lake with very little wind and wanting to abandon at 11am, but he was assured by William that the wind would have filled in by 11.30, and it did! As Hugh must have had a late night, and was not at the club at the due time, Rhonwen offered to be OD for the morning allowing Stu and Debbie Spence to free themselves of the worries of course setting and go racing. When Hugh did turn up, he was seconded into driving the Bates.  Roy Blackburn, not having had his crew snatched from under him for a second time, was out in plenty of time for his first race in a month only to be late for the start! Shunty had secured the lead and managed to go around the leeward mark the wrong way only to be told part way up the beat. However, he had a very peculiar way of unwinding to correct his mistake, and no-one's really sure if he managed it, but Steve was too dizzy to remember! Mike Moore was keeping up with the leading RS400s well until the final run when the wind managed to evade him and took away his chances of winning. Amanda Bainbridge was a bit confussled with the extra sausage in the course and was somewhat relieved when she finally heard her finish gun. To counter this, it was good for Dave Wright and son Connor to finish their first ever race. The OD was somewhat surprised at the the amounting of whooping and air punching that was going on – what will happen when they win their first race?! Lewis Tyson, always open for a challenge opted to sail with William in an RS400 rather than in his Topper, and enjoyed it so much he wanted more in the afternoon.
The afternoon breeze was slightly fresher than the morning, and even resulted in the odd capsize. In fact Sam missed his toe straps before the start and was first to go in, whether this was the cause of Dave and Connor capsizing as well we're not sure, but they were very close together at the time. As for the start, there must have been too many people in the committee boat, as everyone was convinced they had the perfect start only to be brought back with a general recall! After another general recall, stand in OD cleared the boat, focussed on the job in hand, and got everyone away – third time lucky! Although Shunty got clear away this time, with no mishaps, and won the race, other boats had mixed fortunes, and the results were spread across the various fleets.
Lewis was enjoying the RS400 again, but found the gusting reaches challenging and realised that tugging sheets soon rip through bare hands – hopefully William won't be held up for child abuse! At one stage Robbie D thought Scumper had put in an enthusiastic tack and almost filled up, so he was encouraging him to go a bit further over – then he realised it was William and Lewis, but he was still willing them to capsize!
Congratulations to Sam Hall in achieving 1st U14 and 3rd overall at a Junior NW Travellers open meeting held at Ullswater YC on 9th June. Joe Watkins was 3rd U14.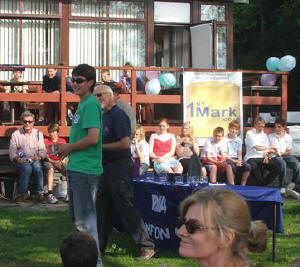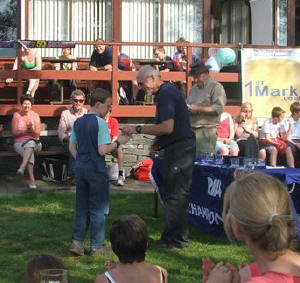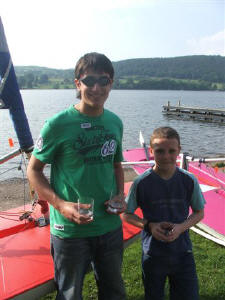 As for Saturday, the wait was worth it…
After an intermittent breeze at the start of the afternoon, it eventually filled in from the north to get sailing underway. William, with Kirsty Somerville, was a little premature(?!) and returned through the line trying miserably to avoid the oncoming fleet! No major collisions, but he did a couple of turns for good measure. Perhaps it was payback for pinching Roy's crew who had to stand in and man the Bates.
William did get on the tail of Neil and Judith by the windward mark, but Neil was to disappear off wind never to be caught, leaving William to tussle with Paul Burnell.
Although a dark cloud appeared (it probably brought the wind!) the sun shone all afternoon and led to some glorious sailing conditions.
In the second race, Mark Somerville brought out a super light crew – Ethan! Although they could catch Neil, they pulled ahead of William who struggled to break free from Mike and Mark in the F15. Although William eventually made headway, it wasn't enough to beat Mike on handicap. Neil leads the new series
In the GPs Hugh and Rhonwen stayed ahead of Dave and Sarah Nicholson to take an early lead in the Autumn Cup
The results for Thursday's Night Jar have been calculated and displayed below. As ever, the results seem to cause controversy. All we can do is blame the computer, the OD and anyone other than the helms (well, so it seems!)