Strong gusty winds in the morning eased sufficiently for racing in the weekend series with a turnout of 16 boats. There were various capsizes, some challenging variable conditions around 9, and opportunities for some spectacular reaches, especially by Scumper in his RS100.
At one stage, AJ seemed to have a new take on an age old rule re mark rounding…
In the handicap fleet there were mixed fortunes with the shifty conditions, and the asymmetrics were able to take advantage of the gusts on the long runs to the leeward marks. Scumper had a 1st and a 3rd, Robin/Erin in a RS200 two 2nds, while John in a Solo had a 3rd and a 1st to take overnight lead.
There was more consistency in the GPs with Andy/Phil in overnight lead with two 1sts while John/Jack had two 2nds.
Paul leads the slow handicap fleet after both Poppy and Katia retired.
Sunday morning was bright and dry but with a strong SW breeze that wasn't tempting anyone to even take covers off their boats. Perhaps the occasional sunny spells highlighted too many white wave crests?!
After a while Andy/Phil and John/Jack decided to give it a go, and three handicap boats followed suit.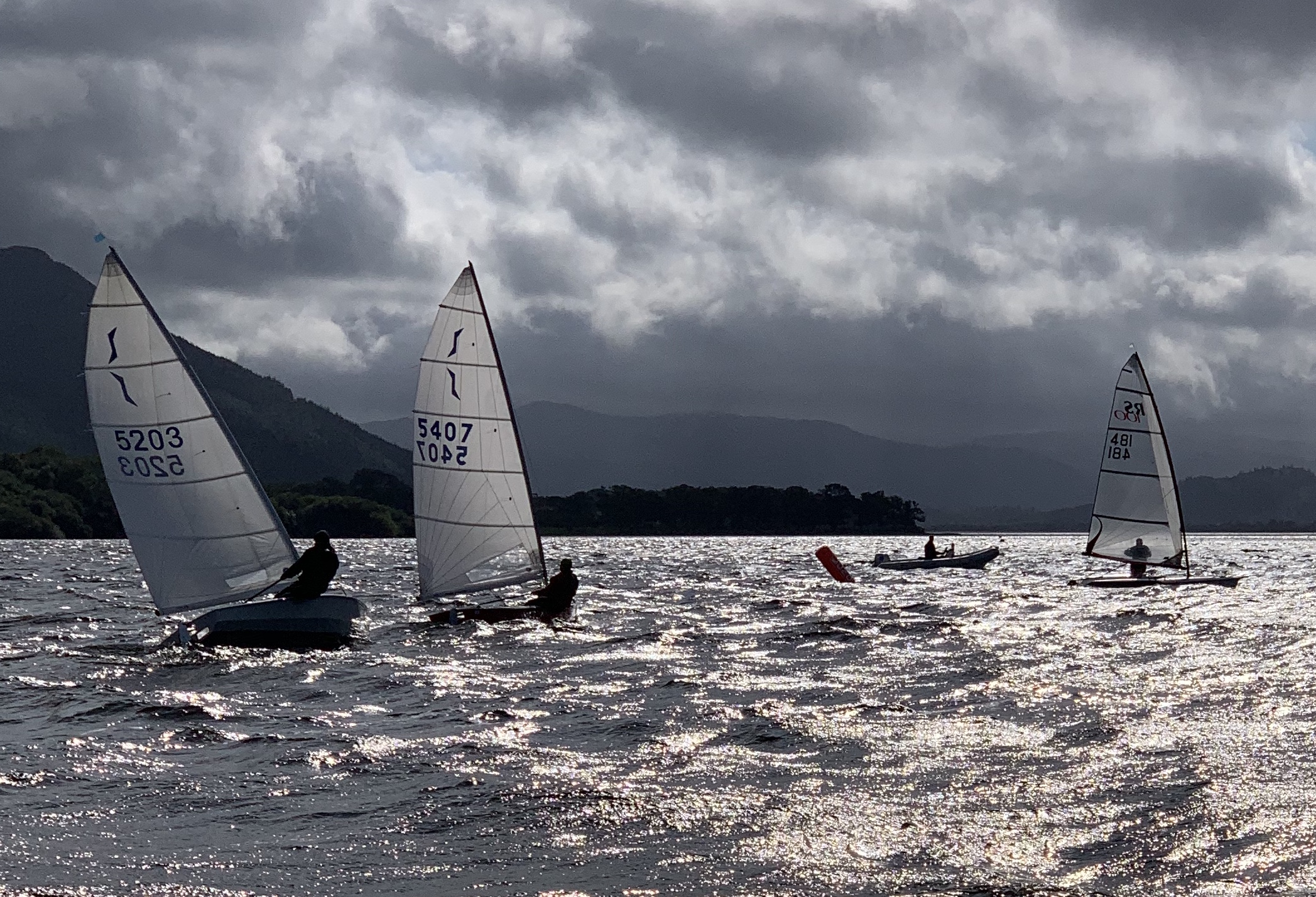 Conditions were such that the Bates wasn't holding its anchor, even second time around, so it resulted in a lot of port bias (probably so much that boats couldn't cross the line on starboard tack!). There were numerous capsizes, hard beats, and some good reaches to make up for all the hard work.
Despite a strong lead, Scumper had one, or two, capsizes too many and ended up finishing behind John on the water. In the GPs, Andy/Phil led throughout the race with John/Jack 2nd.
Coming ashore after the first race there was no appetite for any more races, so that brought the series to an end, with no change to the overnight leader results.