Sun's shining! No wind though 🙁
However, the wind did fill in and settle down from the south eventually, so the OD opted to postpone and have an early lunch. Shortly after the 1pm start, the sea breeze kicked in and the wind direction changed to a south westerly without any particular holes surprisingly! It did mean that there was no longer a beat in the race, so it was shortened after 30 mins. William and Elaine did lead the way, with Steve and Ruth in a Merlin Rocket closely on their tail, but the lead was not sufficient to make an impression on the overall results. Rory Yardley in a Vareo won from Steve Hunt.
The second race started in a good breeze but eased from time to time. William again led but was unable to break free from the pack. Robin Dawson worked his way through the fleet to finish 2nd and 2nd on handicap behind Andy Smith sailing a Mirror single handed.
With a 2nd and 3rd Robin's consistent results were sufficient for him to win the Paul Carruthers' Memorial Trophy yet again. Mike Moore and Sally finished 2nd overall.
Sunday
Sunday racing was exciting – the winds were not quite as strong as forecast but everyone enjoyed several thrills, and there were various spills to keep the rescue crews busy.
Jon Denwood teamed up with Ian Preston in a F15 to give Mike Moore a run for his money, and they won the morning race. Similarly Dave Lawson sailed with Ken Bell, while wife Lynn sailed with Mike Fairlamb, who gave her a dunking. Dave won the race from Tim Knowles.
Mr and Mrs Bean again took command of the handicap fleet to win ahead of Toggle in his Vareo, and Neil Garrison in his Dart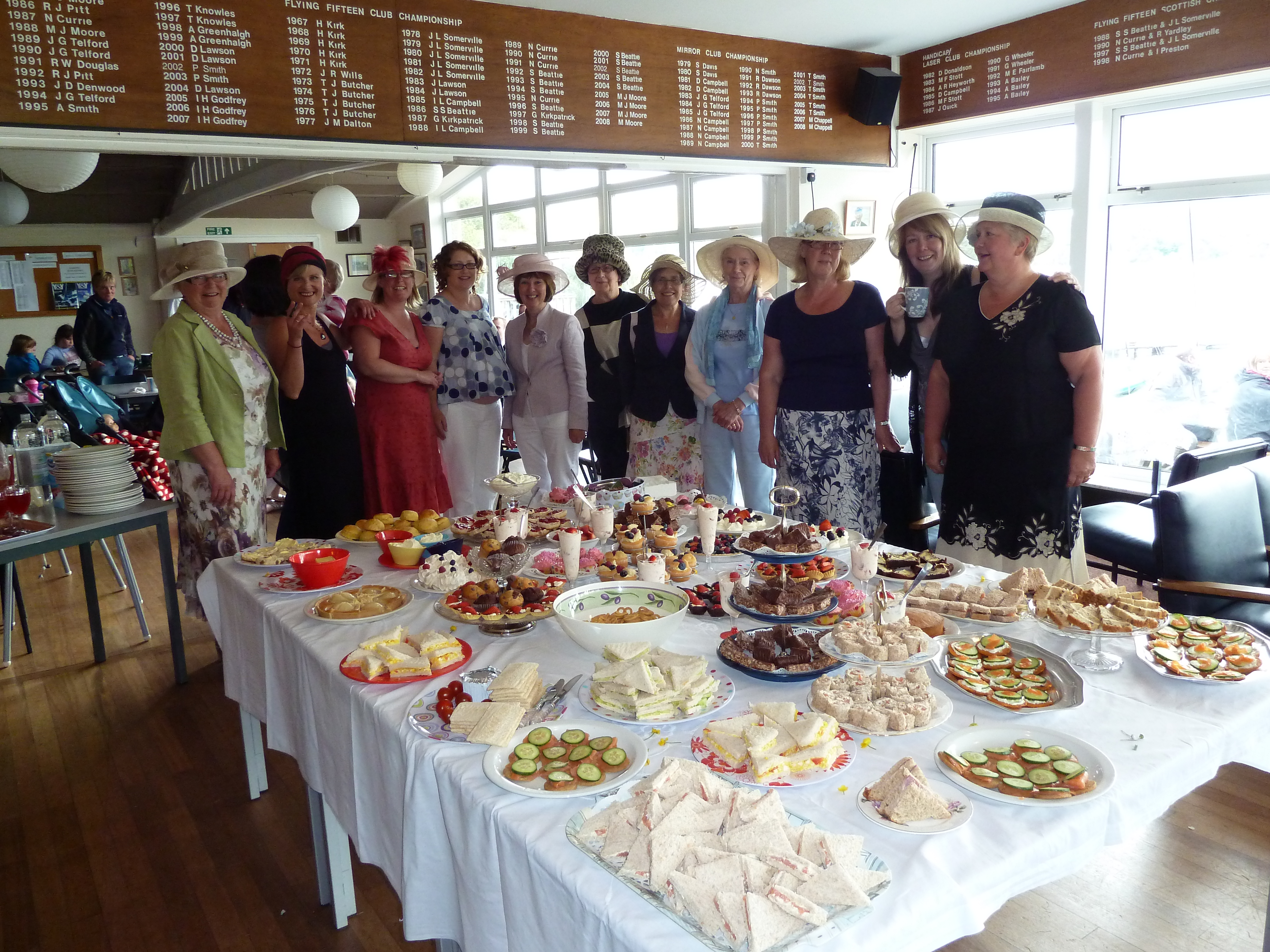 The afternoon race was the RNLI pennant, sailed around the lake. Although the wind seemed to ease over lunch it reappeared with a vengeance resulting in many capsizes as the fleet ran/reached down the lake only to have to fight through heavy waves all the way back up! Although Scumper and Rob Cook broke away, the conditions favoured the F15s, and it was Jon Denwood that again triumphed over 100sec ahead of Scumper, then Mike Fairlamb with Dave Lawson crewing (Mike managed to capsize Dave too!)
With racing over, sailors came back to numerous ladies in their Sunday best, complete with hats, having prepared afternoon tea! Strange thing is they didn't have any tea, and they didn't manage to eat it all without the sailors' help!