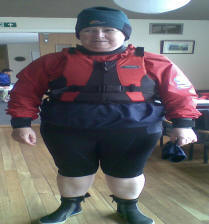 Especially not casual sailors!
Would the forecast come anywhere near true today?
Well as yesterday, the wind filled in and there were more thrills and spills. Bridget clearly dressed for the occasion in her gnome outfit! (Why does she think I've altered the photo?)
Old habits die hard in that OD Ian Campbell was keen to get the racing off on time, and so the fact that a lot of the fleet hadn't quite made it to the start was not going to be an issue (for him!)
Just as well the sailors understood the course as it turned out that Ian couldn't follow what was going on because a short beat to A took the fleet through the start line an extra time!
William treated Kayla to her first capsize of the season when he was washed out of the back of the boat. The next lap she was treated to a further capsize when there was a nose dive following a gybe.
There were several others that capsized, especially when gybing. But Scumper and Robbie D went in backwards when the mainsheet fixing broke. This let Shunty get through but, Scumper took the lead by the end of the race. It was Bean and Naomi that sailed best on handicap to win.
Lunchtime was a welcome reprieve after an hours hard sailing.
The final race of the series was equally windy, but very gusty, and the OD again went for a start to suit himself instead of the sailors leaving Shunty and a couple of others giving the fleet a bit of a head start. Again Bean won the race on handicap, but it was Scumper that won the Isel Cup from (a very achy) William and Kayla.
Andy T and Toggle teamed up in the Vago and promptly practiced there capsize skills, as did several others including Shunty. Notably, and very audibly, Ginge and Jose went swimming after a gybe and they needed help to get their mast out of the mud. This scuppered their chances of winning the Commodore's Prize which went to Val and Ken Bell.
The Mirror Orsova Cup was won by Mik Chappell with two firsts