A reasonable wind, though variable, together with some sunshine led to some good sailing for clubs boats and visiting Tinkers.
Overall the results for the day were consistent – Val/Ken's thread bare main halyard held out and they secured two 1sts from Jim Christie in his Supernova. Alan crewed for Eric in a F15, and they too were consistent with two 3rds. Peter continued to try and get to grips with his Vareo, but his gennaker continues to have the better of him when it comes to taking it down – several more capsizes it was for him!
Sunday's forecast was for wind and rain – lots of both! As it turned out, there was a good breeze but the rain was much lighter than expected. There was a lack of enthusiasm to venture out, until Ethan arrived that was, as that meant Jim had someone to sail against, and Val/Ken would have to go out to defend their position in the series.
On the water, Val wanted to tack towards the windward mark, but Paul/Emily were in the way. Val seemed to drop to leeward with the expectation she would tack behind Paul. But no, when she tacked she was still ahead of Paul, though not far enough to cross him. Paul tacked on to port and Jim promptly shouted starboard forcing Paul and Val back. After all that kerfuffle there was no sign of anyone doing any turns! Jim did break away to get a good lead over Val, and Paul wasn't too far behind them at the finish. On handicap, Val beat Jim by 8 secs, securing the Tinker Trophy, and Paul was 3rd.
A prize giving was held for the Tinker Association. Overall winner Malcolm Ellwood was represented with the Bass Plate that he won last year. David Warren was 2nd and Alistair Parker 3rd out of a fleet of 11 boats.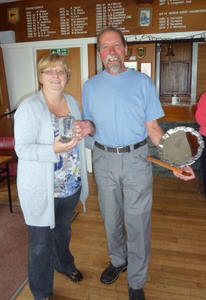 Malcolm Ellwood receiving his Trophy from Elaine Hunt