Several members were competing at different open meetings over the weekend
Sam Hall finished in 2nd place on Saturday at Winsford Flash. He won a £5 voucher and a crewsaver wallet.
Well done also to Robbie D/Big E and Scumper/Zefer who went to Windermere for an RS400 event and came 1st and 2nd in the silver fleet (10th and 11th overall) in fleet of 43 boats. Full article
Dave & Lynn Lawson won Geeps after winning a protest against race committee (at RWYC no less!). Apparently Course board said 2 which David interpreted as "Course 2" whereas it meant 2 laps. He went in after 1 lap and was deemed to have retired.
Toggle was keen for a mention (as ever!). He went to Leigh & Lowton and finished 5th out of a fleet of 9. His shroud fixing came adrift yet again (Alan's fixed it for him now – no doubt the boat will fall apart before the fitting does!). Also, he bent his tiller extension during one capsize, but when he straightened it up it broke in two. Didn't stop Tog finishing the race though!
And there's more – Rich Critchley was 2nd at Winsford Flash too! – although in the Enterprise Open on 19th April!  Royston Taggart (Mr T!) was 3rd and Steve Blackburn (DJ Enterprise!) was 6th
Know any more successes? Let us know
What a Weekend!
Saturday started slightly hazy but there was a breeze – how would it turn out?
Not quite as expected is the answer! Racing got underway in a shifting breeze, but picked up as the fleet approached the windward mark. William and Elaine tacked under Steve and Ruth but were just below the lay line so had to gybe round to let Tim and Ian in a F15 through, while Steve merrily hit the mark and appeared to nose dive as Ruth went to hoist the gennaker. A quick 360 and they were off! The wind quickly picked up and on the next leg Steve capsized much to Elaine's glee as it let William get past! The squall continued to drive through and on the next beat William was blown in. For a change the boat was quickly righted and they continued to towards YZ to hear some sound signals. Unfortunately it was the racing abandoned signal 🙁 Tim had already opted to lower his mainsail, as had Neil Garrison in a Wayfarer. Hugh Godfrey had a boom with an unusual 90o angle! Pam in a Mirror was rescued and taken ashore. Mark Rimmer's return to the water was a bit of an unexpected baptism
Quote of the day – I thought I was going to die! Steve had fallen in the water and came up for air only to be pushed back down by Ruth as she fell on top of him. He came up a third time and was swamped by a wave! Having donated his burgee to Neptune, he was allowed to live to fight another day!
After an extended break three hardy sailors opted to have another race, and the wind duly picked up again! Tim had a problem with his main halyard so didn't make it to the start line, leaving Steve and William to fight it out. With the wind easing and blue skies moving in from Keswick, William led around the windward mark, but as the two boats drifted on the next couple of legs back to the leeward mark, the wind swung and they had to beat into it! Steve had taken a good lead and the wind eased even more before William finished. There was no attempt to sail the final race as the lake turned into a mirror.
What a difference in conditions over such a short timespan!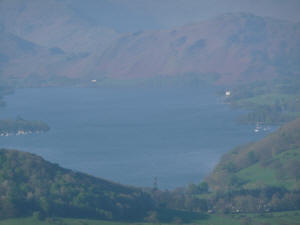 Apparently Sunday started with rain. Not certain how much wind in the first race, but certainly the other two races had sufficient wind to make the crews work for a living, although there were few capsizes – Lewis Tyson having one of them!Results were calculated on a personal handicap basis and Tim Chittenden sailed well and consistently to secure a couple of wins, with the other one going to Lewis Tyson. Steve sailed his socks off (they'd dried from Saturday and he didn't go for another dip!) but his personal handicap kept his position down and he was to finish third overall behind William (having come back down to earth following an early morning balloon trip!). Tim's two wins and consistent sailing secured him the series trophy.