What another wonderful day for sailing. The vicious gusts from Saturday had faded leaving a good, relatively steady breeze, but with some shifts to take advantage of, and the sun was shining!
In the Asymmetric Cup Phil and Naomi again sailed well to win the morning race from Rory Yardley, by just 7 secs/lap. Phil did not sail the afternoon race as he wanted a capsize practice in the Moth, but the RS200s still took pole position when Joan and Jack Hardie pushed Rory into 2nd place again.
In the MJM Trophy, there was some close racing but Mike Fairlamb and Eric Smith got a clear lead on handicap. As for the remainder of the fleet there was only 1 sec/lap separating three boats. Mike Moore and Martyn Stephenson had some close racing with Ian Macpherson and William Carruthers (in a F15!). Although Ian had the lead at the final mark, Mike was close enough to tack first and beat Ian to the line (Skill I believe Mike called it!). In the afternoon, Mike again had some close racing but this time William had taken the helm. Despite Mike luffing head to wind to gain advantage at the end of the first beat, William and Ian broke away and secured a strong lead. Mike nibbled away at the lead on a couple of beats and was on William's tail (Mike happy) at the final windward mark. William broke away again and held Mike off till the finish (Mike not happy! Luck I believe Mike called it). On handicap William won, Mike was 2nd with Mike Fairlamb 3rd
Saturday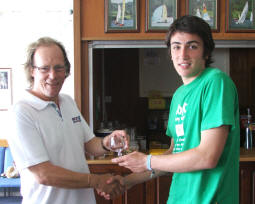 The rain has passed through, and the wind is less than forecast, but with some strong gusts

Andy Smith is trying out his Int Moth in some wind for the first time, and finding it just as tricky (and tippy!) as in the lighter winds of the Thursday evenings that he's been used to. Scumper has had a go too, and found how tiring capsizing can be (after the first 15 or so!)

The winds were blustery, and there were some excellent offwind legs that proved challenging. A wineglass in the gennaker after the gybe mark did not help William and Elaine's chances, and it was capped off when the downhaul on their gennaker came undone. Bean and Naomi went on to win by a big margin from Steve and Ruth in a borrowed Ent.

There were only three takers for the 2nd race. Scumper was still practising his capsize drill in the Moth so did not make the start. Bean again won, with Steve second and Ian Macpherson 3rd in a F15

At Ullswater on Saturday Sam Hall finished 1st Junior and 3rd overall out of 14 standard lasers. Adding another 2 glasses for the collection!
The Moth got some more capsize practice, especially when Steve took it out after racing – his best effort is believed to be 10-15 secs! Say no more 🙂